ENGLEWOOD, Colo. — Getting from place to place has been a struggle for Kelly Taylor, 50, after he broke his back and was paralyzed in a car accident 23 years ago.
While Taylor has learned to embrace the challenge, he said a recent flight with Frontier Airlines served as an unfortunate reminder of how dependent he is on his wheelchair.
"It's custom fit to my entire body," he said. "I need to have my chair to be mobile, to go to work, to live my life, and without a chair I'm bed-bound. There's no way."
Taylor said his March 25 flight from Las Vegas to Denver started with the type of embarrassment he hasn't felt in years. He said staff tried to usher him to the window seat of the first row – which is "virtually impossible," he said, because the armrests don't move.
Taylor, who only flies about once a year, said it took Frontier flight attendants an unusually long time to find an accessible seat for him.
"There's a big holdup," he said. "I make customers angry as they're waiting to get on their plane."
Taylor said he had to purchase another ticket before Frontier could find him an accessible seat. The real inconvenience, though, came when he landed at Denver International Airport.
"The entire back of the wheelchair was broken in half and thrown away," Taylor said. "The caster wheels are all jacked up, the bearings are messed up. The wheels [are] bent, the brakes are all jacked up and then bent."
Taylor said his customized wheelchair, which cost more than $4,000, is no longer usable.
"It's very frustrating when that happens to his chair because that's his legs," said Taylor's caretaker, Craig Redd. "If his chair gets broken, if something happens to his chair [...] He can't move."
Taylor said his attempts to reach a Frontier representative since the incident were unsuccessful. The airline dropped its customer service phone line in favor of a chat service a few months ago, and email communication did not detail how Frontier would investigate the matter, he said.
Denver7 sent Frontier a requests for comment Wednesday and did not hear back. However, roughly one hour later while Taylor and Redd were interviewing with Denver7 for this story, Redd got a call from an employee in the airline's executive office – and Denver7's cameras were rolling.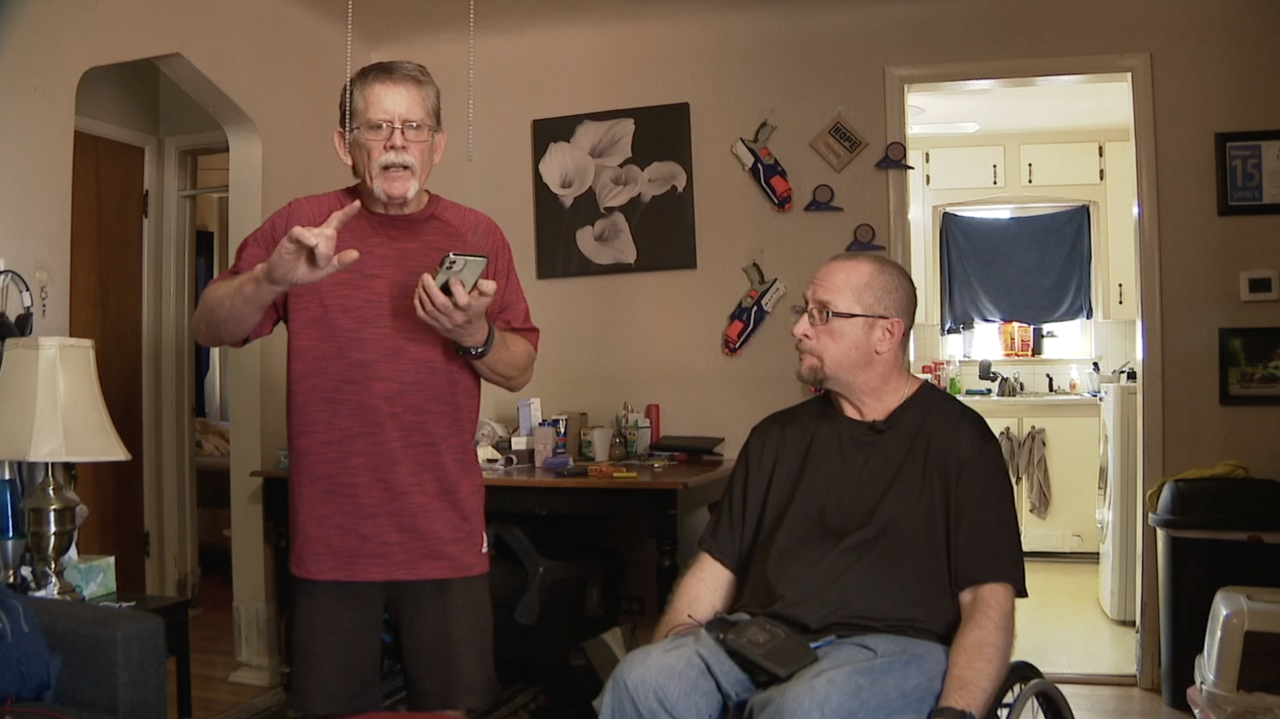 The employee said in part, "I want to apologize on behalf of Frontier. That should not have happened."
The employee offered to replace the wheelchair and said, "We can get this resolved as quickly as possible."
Redd said the timing of the call was no coincidence.
"That was crazy to me," he said. "[It was the] first time since Friday we've gotten to talk to a person and they call right after you, the reporter, called them to tell them you were doing this. They would have never called us. That just shows how much they don't care about what happened."
Taylor said he appreciates the call but suspects the airline was simply trying to "save face."
Sadly, Taylor's story is not all that unique.
According to the Bureau of Transportation Statistics, airlines as a whole mishandle about 1.5% of all wheelchairs and scooters put on planes. In 2019, carriers mishandled a total of 10,548 wheelchairs or scooters, and Frontier was among the worst offenders. The airline mishandled 434 of the 21,544 wheelchairs and scooters it put on its planes – a total of more than 2%.