DENVER — There's an increased risk of severe storms Thursday that could bring large and damaging hail, and flash flooding, to southeast Denver, across the Palmer Divide and into Lincoln County.
The threat of hail could range anywhere from golf ball- to baseball-sized. The highest risk of large, damaging hail is in an area east of I-25 and south of a line from Greeley to Akron and southeast Denver through the Palmer Divide and Lincoln County, according to the National Weather Service in Boulder.
A severe thunderstorm watch has been issued until 10 p.m. for the Denver metro area and also includes Fort Collins and Fort Morgan.
Counties in the watch area include:
Adams
Arapahoe
Boulder
Broomfield
Denver
Douglas
Elbert
Jefferson
Larimer
Lincoln
Logan
Morgan
Washington
Weld

Flooding is possible in urban areas and in locations with poor drainage systems, but the NWS said fast-moving storms could lessen some flooding impacts.
The flooding risk is especially heightened by recent rain and soil saturation. Storms continually forming over the same area could trigger flash flooding, the NWS warned.
Denver7 | Weather
Denver weather blog: Threat of large hail, damaging winds until 10 p.m.
3:33 PM, Jul 06, 2023
There's also an elevated threat of flash flooding to the Cameron Peak and East Troublesome burn scars.
Be ready to take shelter should such a storm enter your area.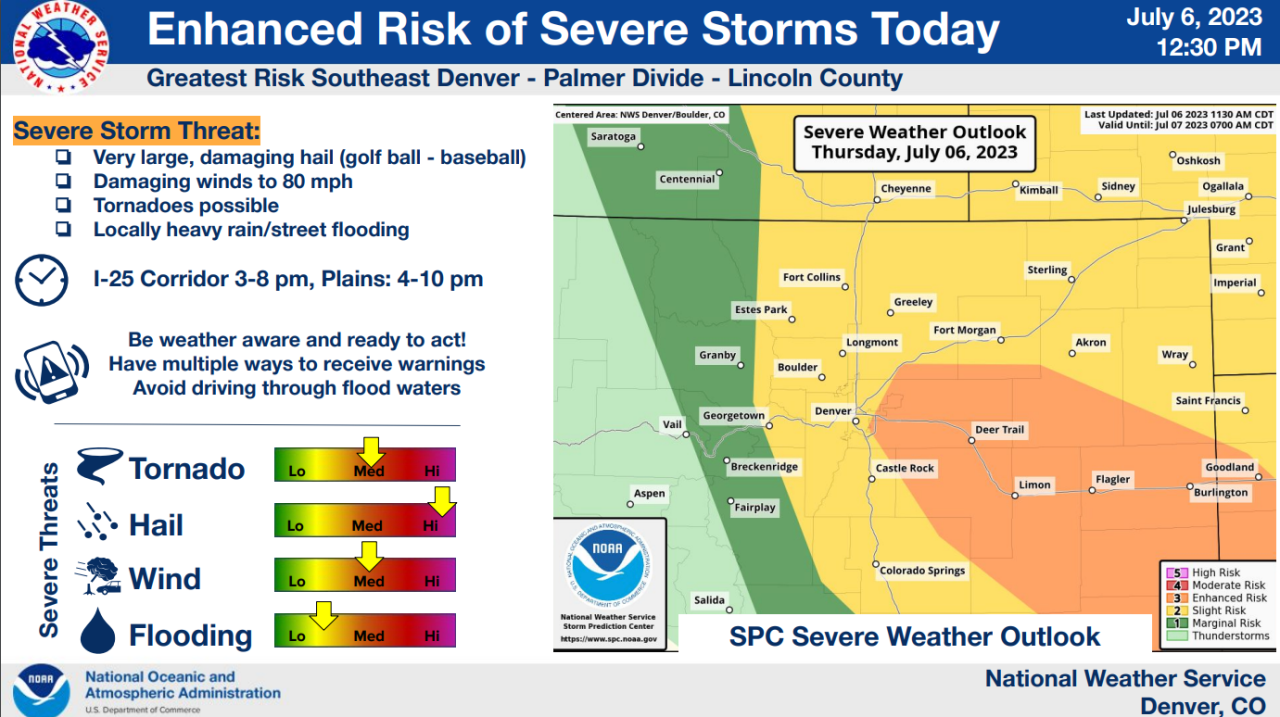 Latest timing from the NWS said storms should begin to fire in the I-25 corridor between 3 p.m. and 8 p.m. and across Colorado's plains between 4 p.m. and 10 p.m.
"We are expecting to see scattered thunderstorm activity start to develop first over higher terrain after about 1 o'clock. We could seem some pockets of heavy rain, small hail near Fort Collins and Greeley with the strongest thunderstorms expected to be South and East of the Limon area right around 6 o'clock," Denver7 Weather Forecaster Katie LaSalle said.
Most of the moisture could miss the metro area but there's still a risk for strong to severe storms lasting until 10 p.m., according to LaSalle.
Moderate northeast damaging winds are likely up to 70 mph. A couple tornadoes are possible as well, according to the National Weather Service.
Low clouds, mist and fog are expected to reduce visibility Thursday. And the National Weather Service has a Dense Fog Advisory for the plains, including the entire urban corridor north of the Palmer Divide, east to the edge of Weld County and just past DIA, through 3 p.m. Thursday.
While all this rain has derailed a lot of Coloradans' summer plans, it has meant good things for the state of Colorado's drought. For the first time since July 16, 2019, the U.S. Drought Monitor map has been completely clear across Colorado, according to the Colorado Climate Center.
Scattered afternoon and evening thunderstorms are expected both Friday and Saturday as well.
Things dry out beginning Sunday with reduced precipitation chances.
Severe weather threat continues Friday in Colorado
---
The Follow Up
What do you want Denver7 to follow up on? Is there a story, topic or issue you want us to revisit? Let us know with the contact form below.