DENVER — Periods of light snow, combined with some areas of freezing fog and drizzle can be expected across parts of northeastern Colorado overnight. Some heavier snow will continue in the mountains with another 2 to 4 inches of snow possible through Tuesday.
On the Tuesday morning commute, expect the potential of slick roadways with fog and freezing drizzle conditions.
Below, you can find updates related to traffic and weather as conditions change. Refresh this page for the latest.
MORE: Weather alerts | Latest forecast | Radars | Traffic | Weather Page | 24/7 Weather Stream
Monday, Jan. 2
9:55 p.m. | WHAT TO EXPECT | Very slick roads overnight with snow diminishing in the metro area by dawn, says Denver7 Chief Meteorologist Mike Nelson.
8:45 p.m. | FORECAST UPDATE | Fog, flakes and freezing drizzle will keep roads slick overnight. Skies gradually clear Tuesday for Denver and the eastern plains, but snow showers will continue in the mountains. Expect highs in the 30s Tuesday and Wednesday in Denver, with 20s in the mountains.
1:15 p.m. | DIA MISERY | There are 255 cancellations and 445 delays at Denver International Airport.
12:15 p.m. | DIA MISERY | There are 241 cancellations and 404 delays at Denver International Airport. Low visibility and icy conditions at the airport may be to blame, the NWS in Boulder says.
10:30 a.m. | POWER OUTAGE | Xcel Energy is reporting several outages affecting 15,409 customers across the Denver metro as 10:30 a.m., including in areas such as Denver, Littleton, Commerce City and Greenwood Village.
9:54 a.m. | POWER OUTAGE | Xcel Energy is reporting several outages affecting 13,870 customers, with the majority happening from Quebec to Havana and from Smith Road to Montview; as well as from across I-70 around Quebec and 56th.
8:30 a.m. | FOGGY AND SLIPPERY ROADS | Fog is making visibility poor in the northern metro area, including Broomfield and Thornton.
5:30 a.m. | AVALANCHE DANGER | In less than a week, two people died as a result of avalanches in Colorado, and experts urge skiers and snowboarders to avoid the backcountry while so many parts of the state are experiencing avalanche warnings on this long holiday weekend. Click here for our story.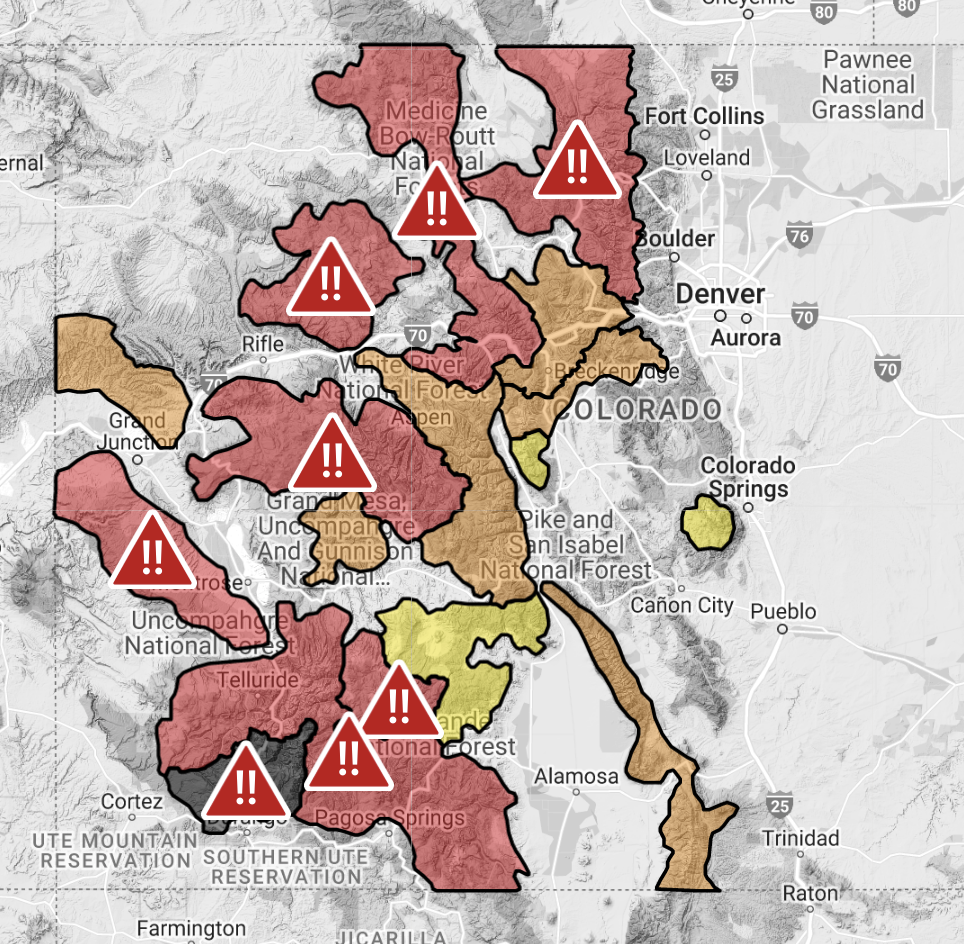 5:06 a.m. | SNOWFALL TOTAL | So far, the heaviest snow has fallen in the northeast part of the state and in the mountains, NWS Boulder says. Light snow along the I-25 corridor with little additional accumulation expected.
Light snow accumulation in Denver rest of Monday
4:47 a.m. | ROAD CONDITIONS | Expect a mixed bag of road conditions this morning, depending on where you're headed. Denver7 Traffic Expert Jason Luber says commuters can expect wet and slushy conditions with some side roads snow covered. The traffic map shows a lot of green early this morning, so no major problems. Lighter traffic than normal as many people have the day off.
4:35 a.m. | FORECAST UPDATE | Expect a wintry mix and freezing fog on the drive to work this morning. Slick conditions should be expected on roadways. A winter weather advisory is in effect until 8 p.m. Accumulations have been lighter than the storm last week, between 2-4 inches in the metro.
You can always watch 24/7 weather, radar and news updates on the free Denver7+ app on your TV.
Denver7 Weather