Keep up with the latest updates on this storm, road closures and more in Denver7's weather blog here.
DENVER — A snowstorm is barreling down on central and northeast Colorado, dropping at least 6 inches of snow, if not more, across the region and bringing "treacherous" driving conditions early Wednesday.
Winter storm warnings cover the Front Range and eastern plains. The warnings for east-central, north-central and northeast Colorado and will expire at 5 p.m. Wednesday, according to the National Weather Service.
How much more snow will Denver see this morning?
The heaviest bands of snow began hitting the foothills, Front Range and eastern plains late Tuesday. Denver7 meteorologist Katie Lasalle said early Wednesday morning we should expect to see another round of snow by the morning commute hours and an additional 2 to 4 inches by midday.
Between 6 and 12 inches of snow is expected around much of the Front Range, with slightly higher estimates east of Interstate 25 and in the northeastern plains. This is a "particularly unique" storm, the NWS noted, as January is typically the driest month of the year for much of northeast Colorado. This storm is more like a March snowstorm.
The peak snowfall rates are between an inch to two inches each hour, the NWS reported.
By Wednesday's sunrise, the foothills and I-25 corridor will have picked up 4 to 8 inches of snow, "making for pretty miserable conditions for the Wednesday commute," the NWS said.
Blowing snow is possible out east, bringing reduced visibility. The strongest wind gusts will reach 37 mph in Limon Wednesday afternoon, according to the NWS.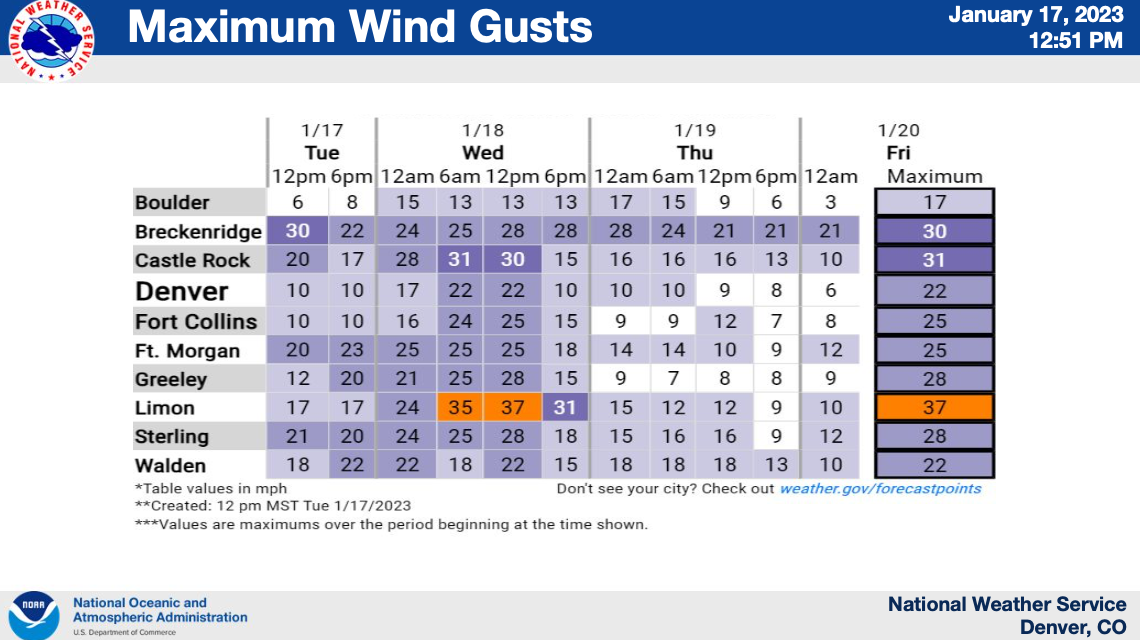 Wind chills around Denver will dip temperatures to a minimum of about 15 degrees. This drops into the single digits for mountain communities. The eastern plains will see wind chills between a low of 7 in Limon and high of 13 in Fort Morgan.
The snowstorm will taper off by Wednesday afternoon. Colorado will see a weak storm system approach the area late Thursday into Friday, but it will only bring light snow, if any.
Let's talk about your commutes on Wednesday.
Depending on where you live, drivers started to feel the impact of the snowstorm on their evening commutes Tuesday, as the storm first rolled into town. This mostly affected drivers along the Palmer Divide, foothills and the I-70 mountain corridor.
Drivers around Denver, as well as those north of the city and farther east, did not see any impacts until the tail end of rush hour — after 6 p.m.
At that time, central, northern and eastern Colorado started to see "moderate" impacts on the roads, the NWS said. By midnight, that risk increased to "major" for the Denver metro area, northeast plains and Palmer Divide.
On Wednesday morning, Coloradans will wake up to "especially dangerous" and "treacherous" driving conditions, according to the NWS. The heavy snowfall will result in slick roads.
The interstates that are most likely to feel the brunt of the storm on Wednesday are Interstate 25 from Colorado Springs to Wyoming, Interstate 70 from Denver to Kansas, and Interstate 76 from Denver to Nebraska.
Drifting snow, especially farther east, may force closures of some roads due to poor visibility.
In southwestern Colorado, US Highway 550 is closed between Purgatory Ski Area to Ouray due to high avalanche area, according to the Colorado Department of Transportation. It's not known when it will reopen. Gates at the closure points are blocking the road and CDOT is asking drivers not to try to get around them.
In addition, US 160 Wolf Creek Pass will close Wednesday morning at 6 a.m. for winter maintenance operations. The road will close to drivers between just west of the ski area to Treasure Falls.
Road impacts start to lessen around noon on Wednesday through the evening commute.
Check COTrip.org for the latest on road conditions before you head out the door.
Shoveling rules: How long you have to clear sidewalks before a warning
So, what about snow totals, when all is said and done?
The NWS said the Denver metro area will likely see 8 to 12 inches of snow. Boulder, Castle Rock, Greeley and Evergreen — as well as Vail farther west — will see about the same. The eastern plains, including Fort Morgan, Akron, Sterling, Wrap, Holyoke and Julesburg, will also see between 8 and 12 inches of new snow.
Parts of the far northeastern plains could see as much as 16 inches of snow.
Southern Colorado will see less snow accumulation, with 3 to 4 inches expected in Lake George, Colorado Springs and Karval.
The northern mountains are expecting 6 to 8 inches of snow, with about 8 inches in Fort Collins.
Upper elevations in the mountains will see 5 to 10 inches.
Farther west, in the areas of Crested Butte, Taylor Park and Marble, snow totals will reach 6 to 12 inches. Localized heavy bands may drop as much as 14 to 24 inches. The winter storm warning for this area expires at 11 a.m. on Wednesday.
Weather Links
MORE: Hourly forecast | Latest forecast | Radars | Traffic | Weather Page | 24/7 Weather Stream
Stream live, current temperatures plus radars across Colorado anytime for free: Weather 24/7 streaming on the free Denver7+ app on your TV or watch from your computer or mobile phone anytime.