DENVER — Aaron Michaels was badly bullied at a Colorado public school. Enduring constant assaults, he'd fake being sick just to get a break from the attacks.
"I felt very trapped and alone. I didn't feel seen or heard," he said. "And when I told the teachers about what was going on and stuff, they just gave me a piece of candy and basically did nothing about it"
The bullying started well before the now 15-year-old came out.
"when I was 11 is when I realized I was gay, and that didn't help either," he remembered. "That made me more depressed. I became suicidal and yeah, I felt very alone in my own experience."
Orlando Bradford has also seen violence and not just for being gay. What should have been a typical teen fight, spiraled out of control.
"And there's like a group of us and we're like walking down the street to where they said to meet them. When we get there, unfortunately, they didn't want to fight, they wanted to shoot."
The 18-year-old was shot in the leg and his friend was hit in the stomach. Understandably, the attack left him feeling unsafe. Orlando dropped out of school and is now finishing his GED.
He continues to struggle with PTSD.
"When something that damaging happens to your physical body and there's like a betrayal of trust there, it definitely leaves an impact on your mental state."
A lot of LGBTQ+ kids are struggling with mental health and feelings of isolation.
The Trevor Project reported nationally in 2023, 56% of LGBTQ+ young people who wanted mental health care couldn't get it.
The survey also found less than 40% of LGBTQ+ youth believed they lived in an affirming home.
The Trevor Project in 2022 reported an alarming stat in Colorado showing 45% of LGBTQ+ young people seriously considered suicide. That statistic was even higher for trangender and nonbinary youth, according to the survey.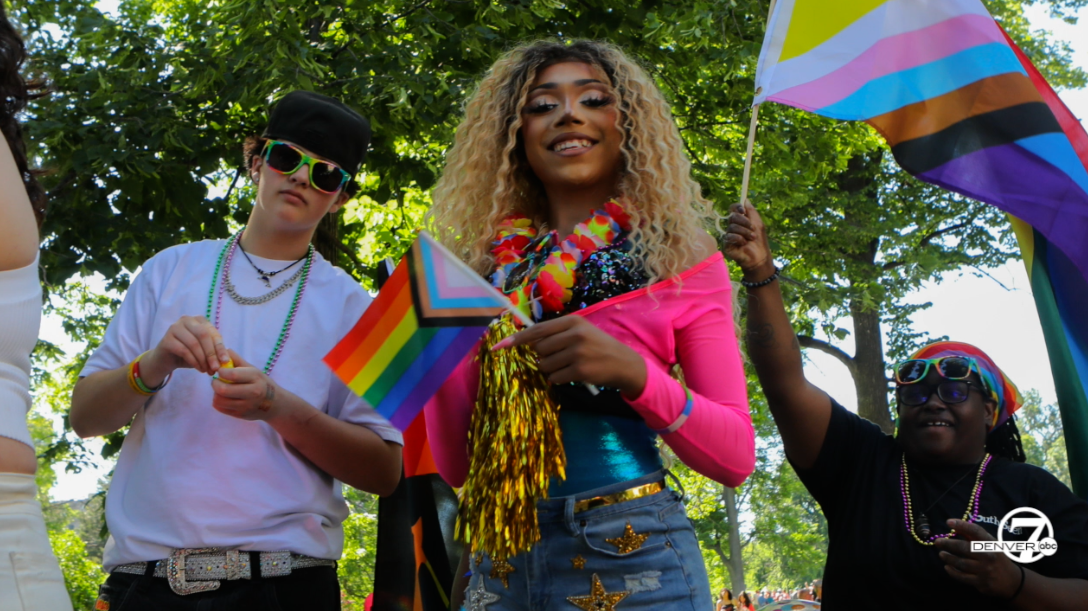 Switching to homeschooling was a lifeline for Aaron as was the love and acceptance of his mom, Gabrielle Williams.
"And when you kid says this is who I am, believe them, support them. And just love them," she said.
Gabrielle was always close to her son. But she said his coming out journey led Aaron to find his voice through drag performances and his struggles with his identity made her a better mom.
"I want my child to live, period." she teared up. "And so having him here and being his true authentic self, trumps anything else. And, of course, when he came out, I was scared. And I think a lot of parents are scared because we know the Matthew Shepard story, we lived it."
Searching for resources, Gabrielle and Aaron found YouthSeen in Denver. It's a safe space for LGBT+ youth providing much needed mental health support.
"Our website will tell you that we provide mental health services for LGBTQ and BIPOC youth. And we do, but it's so much more than that." Gabrielle said, adding there are many different types of programs at YouthSeen that can help break the loneliness and help give a connection.
"So we recently just had our first annual homecoming. And it was amazing kids that you would normally see being wallflowers,are out on the dance floor dancing, they're able to express themselves in the way that feels most authentic to them," she said. "Where some of them can't be that in school, they can't present the way they want to present, use the name they want to use, use the pronouns they want to use. They can in our space."
For Orlando, YouthSeen is a place he found work and a community in which to belong.
"Whoever is out there and feels like they won't find their people, I promise you they're out there," he said. "All you have to do is open yourself up, step out of your comfort zone and one day you'll meet them, I promise."
It's a transformation Gabrielle first saw when she dropped off Aaron for a week-long YouthSeen camp.
"And when I picked that child up, I picked up a whole new kid in such a beautiful way," she recalled. 'He was more independent, he seemed like he was really living. There was a new life in him. And he was bright and happy and energetic and all these things that I didn't see when he was alone and suicidal. That was all the convincing I needed."
YouthSeen had such an impact on her, Gabrielle quit her 23-year-career in real estate to become the nonprofits program director.
"'We have a true connection with these kids. We give them tools and resources to thrive beyond our wildest imaginations," she said.
Showing how something as fundamental as support can have a far reaching impact.
"He is like the premier youth drag performer in Colorado and we started a business together, he manages other youth drag performers," she said.
Aaron, known as 'Hunnie Bun' started experimenting with theatrical makeup and performing as different celebrities with makeup tips from his mom.
"And then on my 13th birthday, that was my first time in drag and I started performing brunches. Then I got on a TV show called Generation Drag," he said. "I love getting the crowd's reaction, and I like making other people happy. It's very freeing to perform and it makes me happy."
"OH, HI THERE KITTENS"
Back in the 1990s, John White started doing drag to save some bucks. "Because I wanted to get in free to the nightclubs, That's how it all started."
And inside a magical room in the basement of his Denver-metro home, Dixie Krystals comes to life. "Oh, Dixie Crystals, how was she born? Well, literally, I got my name from a sugar packet," she laughs. "Gosh, this is 26 years of crap all jammed into a basement, hence the drag lab."
For Dixie, the sequins and shows all come with a purpose.
"And the reason I do it is to help kids and to help the youth realize that they're not alone," Dixie said.
Sometimes, the mission comes with a dark side. "Because if I'm getting that much hate, I can only imagine what those kids and those parents are getting."
Performing in venues in Denver and across Colorado, Dixie Krystals admits it's not healthy, but she has learned to tune out some of the hate.
"I have people that will follow me on the street, and they'll be like, 'Oh, we're gonna follow you back to your house the next time that we see you on the highway so that we can know where you live,'" Dixie said. "I've gotten other ones saying that you should all be hung out to dry because you're a pedophile, you're a groomer, leave our kids alone,"
Appearing on the popular Discovery+ series 'Generation Drag' brought in more attacks. Some of the threats from people and others from bots all flooded into her DMs on social media.
"There's no how-to guide to handle that when you're in the public eye," said Dixie. "Especially doing a television show that focuses on drag youth, you know, now that it's on a different network, where more people are seeing it, I continue to get hate mail, death threats."
In the months after the November 2022 mass shooting at Club Q in Colorado Springs, Dixie saw firsthand changes to help LGBTQ+ people feel safer.
"All the venues and Denver specifically that I work at beefed up security, they hired security, they were doing bag checks, they were doing pat downs. And then as you saw the New Year trickle into January, February, that kind of went away."
One year after the Club Q attack that killed Raymond Vance, Ashley Paugh, Daniel Astin, Kelly Loving and Derek Rump, there are still so many unknowns facing the LGBTQ+ community.
"I think it's just anxiety and not knowing what the heck is coming next, like everyday is just a different news cycle of bills that are going to be passed or people that are put into leadership that are very much against the LGBTQ+ community, so what does that mean?" said Dixie. "What does that mean for us? What does that mean for my future? What does that mean for my husband's future? It's all these things that start building up that it's just kind of, you know, a balloon, and eventually it's going to pop."
Faced with all of the anxieties of the moment, Dixie has learned to recognize the impact on her emotions and to give herself grace.
"If I wake up anxious, then I know it's not going to be a good day and it's very rare that I have bad days because I'm a naturally upbeat person, my entire family is," said Dixie. "Since so many things are coming at me this entire year of attacks and just everyone against what I do as a profession, who I am as a gay man, everything is under attack."Describing the anxiety as feeling like crawling out of her own skin, Dixie recognized that it might be a panic attack, but unsure of the cause and fearing a possible heart attack, she went to the ER.
"It's those type of things that you really don't know what's happening if you've never struggled, like I've never struggled with mental health, that I think, in my lifetime, but now that we have the resources to talk about it and work through it, that's when I started realizing that maybe the anxiety I was having more of just mental health days," said Dixie.
The episode to the ER turned out to be a panic attack and Dixie has taken more mental health days this year than ever before.
"IT'S OKAY TO NOT BE OKAY"
Over at the Center on Colfax, Jaylin Goodloe is on a mental health mission.
"It's okay to feel targeted because 9 out of 10 times you are. It's all about advocating for yourself and learning how to do that, and no one automatically knows how to do that," said Jaylin. "
Feeling like they are always being targeted, like all eyes are on them. It's just creating a sense of hope and trying to help them understand, it's not you. It's other people. Other people have opinions about you and they're just going to have opinions about you, what do you think about you?"
As Director of Mental Health Services at The Center, Jaylin is championing a message of empowerment.
"How can we reframe what you think about you? How can we help you accept yourself so that when people start saying these things or put these stigmas on you, it just rolls off your back, because you know who you are," she said.
But what many LGBTQ+ people feel is shame, a constant feedback loop of shame.
"I know, a lot of people that I have come in contact with when it comes to that shame piece, it'is truly hard for them to not feel shame about who they are and that's because lack of self acceptance," said Jaylin, "So we have to accept ourselves, other people can accept us all we want, but if we don't feel that for ourselves, it's kind of hard for us not to feel that shame."
Coupled with the anxiety of having to constantly look over your shoulder, it takes a toll on the LGBTQ+ community.
"It makes you isolate, it makes you feel like I gotta be on fighter flight every time I walk out that door, I'm not gonna walk out the door, I'm not going anywhere," she said.
In her position at the Center on Colfax, she helped launch the new Glass Lawler Mental Health Program, which offers 12 free therapy sessions to LGBTQ+ adults by affirming counselors.
The program kicked off this fall and is already a success.
"So we will match it with the clinician, and then you and your clinician will create a treatment plan. And from there you will go through your 12 free therapy sessions," said Jaylin. "If you feel like you need a little bit more, we can refer you to people on our network as well."There's no no referral or insurance needed to get help.
"This gave me so much hope. This is 3 to 4 months of free therapy, you cannot find that anywhere," she said.
The program was created and named for Carmah Lawler and her wife, Kathy Glass, after the influential couple passed. The free therapy program was born thanks to their generous gift which is creating much-needed human connections.
"I wish a lot more people would come, more BIPOC people would come to the Center, because you're welcome here. You are wanted here. I wish a lot more Trans people would come here, you are welcome and wanted here," said Jaylin. "We want you here, we want you to feel love, we want you to feel wanted, that's our goal."
It's a loving message shared by Dixie Krystals.
"I always say to kids it will get better. It's going to be really hard. And it's going to feel like that there are days that you feel like you can't do anymore, and you feel like you don't belong, so much so, that you may have thoughts of removing yourself from this world, but don't do it," shared Dixie. Dixie recommends picking up a book, turning on a television show or listening to your favorite music to have time to clear your mind.
"And have a handful of people in your life that you can actually reach out to at any time of day and pick up the phone or text them, even if it's just a text saying, 'Hey, I'm not okay,'"
And Aaron, who's journey into self-expression through the art of drag and dance has just begun, shared words that he wanted to hear when he was fighting through the pain of isolation.
"It's okay to be yourself. It's okay to be who you are. You're completely normal," he said, "Everything about you is unique, and it's great, and it's awesome and don't be afraid to express that."
How LGBTQ+ Coloradans are finding hope amid constant assaults on mental health
---
If you or someone you know is facing a mental health crisis, call the Trevorlifeline at 1-866-488-7386 or visit thetrevorproject.org.
To learn more about the programs and support available at YouthSeen, visit this link.
To sign up for free therapy through the Glass Lawler Mental Health Program at the Center on Colfax in Denver, click this link.
---
The Follow Up
What do you want Denver7 to follow up on? Is there a story, topic or issue you want us to revisit? Let us know with the contact form below.