DENVER – Temperatures will climb into the low 90s Monday in Denver before monsoonal weather brings heavy rain, thunderstorms, as well as the threat of localized flooding, hail and strong winds starting late in the afternoon and continuing through the evening, according National Weather Service forecasters in Boulder.
Thunderstorms will begin to develop over the mountains at around noon before spreading east across the I-25 Corridor and the eastern plains by about 4 p.m. and continuing into the evening Monday. The stronger storms will be capable of producing 1-2 inches of rain in less than an hour, which could lead to flash flooding along low-lying urban areas of the Front Range, small creeks and streams, and burn scar areas in the mountains, NWS meteorologists said in their latest forecast discussion.
A flood watch will be in effect for the mountains and the Cameron Peak, East Troublesome and Williams Fork burn scar areas from noon until midnight and for the northern foothills, the Denver metro and portions of the plains from 4 p.m. to midnight, forecasters said. NWS officials also advised drivers to avoid flooded roads or areas where water depth is unknown, to closely monitor the forecast and have multiple ways to receive warnings if planning activities outdoors and be ready to move to higher ground if living in a flood prone area.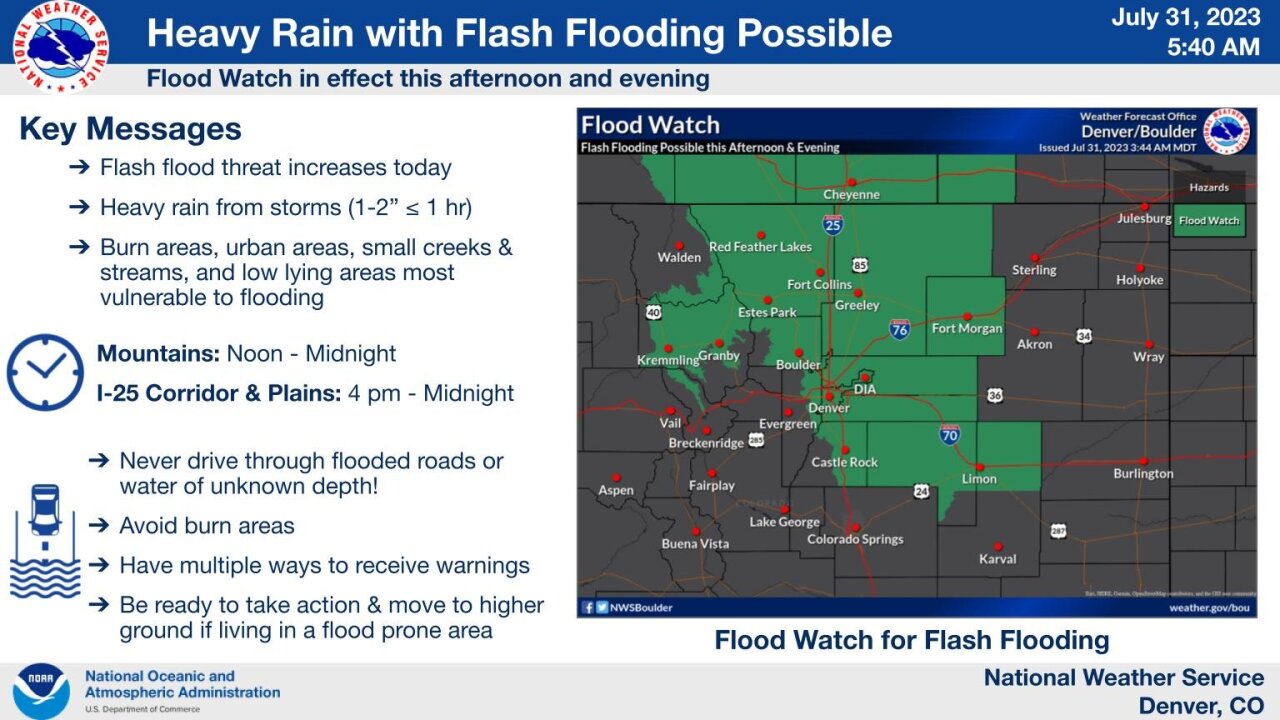 The chance for precipitation in Denver and other parts of the Front Range will start to pick up at around noon Monday and exponentially increase by the later part of the evening commute with most areas around the metro estimated to receive between a 60 to 65% chance of rain.
The wet weather pattern kicks into high gear Tuesday with about a 35-60% chance of rain for the Denver metro from noon to about 6 p.m., and continues into Wednesday, with the threat of flash flooding still present overnight due to the potential of 1-3 inches of rain across portions of the high country, Urban Corridor and the eastern plains, according to the weather service.
"Bottom line is storms in this environment will be efficient heavy rain producers (even moreso than today), capable of causing flash flooding," forecasters said, adding a similar setup is possible again on Wednesday.
Thunderstorms will decrease by Thursday as the weather setup looks to be a bit drier, according to NWS forecasters, though some models suggest "fairly widespread rainfall amounts of 1-2.5" will be likely through Thursday for the Front Range, I-25 Corridor, and the plains."
The chance for rain Thursday falls somewhere between 45-55% for the Denver metro, decreasing to between 25-35% by early evening.
Along with the threat of heavy rain and flash flooding for the Denver metro Monday, the Colorado Department of Public Health and Environment (CDPHE) has also issued an air quality alert until midnight that covers the Urban Corridor from Douglas County north to Larimer and Weld counties, including the Denver-Boulder areas, Fort Collins and Greeley.
The higher ozone levels will mainly hit southern and western parts of the Denver metro area, including Highlands Ranch and Golden, according to state health officials.
Children, the elderly, those with heart disease or respiratory illnesses should limit their time outdoors in these areas, the CDPHE said.
WEATHER LINKS: Hourly forecast | Radars | Traffic | Weather Page | 24/7 Weather Stream
So, about that monsoon season in Colorado
The word monsoon refers to the seasonal shift in the wind direction.
In Colorado, that leads to stormy weather in the months of July and August. We get an area of low pressure over the Desert Southwest that draws up moisture from the Pacific Ocean. In addition to that, a ridge of high pressure to the east pulls in moisture from the Gulf of Mexico.
Weather News
A soggy June makes way for the potential of more rain in July
1:48 PM, Jul 01, 2023
"Some hail, primarily heavy rain flash flood and definitely lots of cloud to ground lightning strikes occur when the monsoon season gets going," Greg Heavener, a warning coordination meteorologist at the National Weather Service in Boulder, said.
He also said our summer monsoon produces our most active lightning season. That is due to the amount of moisture, the amount of lift and how slowly storms tend to move.
Heavener said this year, we can expect a later start to the season, and just how much rain we'll see is hard to forecast. One thing is for sure: Heavener said monsoon season is on its way, and any additional rainfall we get could cause high water levels and issues with some of our streams and creeks which could lead to flash flooding.
Continue reading this article from Denver7's Steve Roldan and click here to watch the Denver7 live weather stream.
Denver weather: Flash flooding, hail and strong winds possible Monday, NWS says
---
The Follow Up
What do you want Denver7 to follow up on? Is there a story, topic or issue you want us to revisit? Let us know with the contact form below.