DENVER — It will be a mild but windy start to the week, with winds picking up ahead of our next storm. A High Wind Warning is in effect for the foothills and mountains (west of the metro area) until Tuesday afternoon- winds could gust as high as 75 mph. Be very careful driving back to Denver from the mountains on Monday afternoon and evening...winds will be significant and we'll see areas of blowing snow.
Wind gusts of 30 to 50 miles per hour are also possible along the I-25 corridor.
Monday will be dry and warmer in Denver. Highs will climb to the mid 50s. Tuesday, highs will near 60 degrees ahead of our next, stronger storm system.
Tuesday through Thursday will be unsettled with some periods of snow for the high country and a chance for rain, shifting to snow in Denver on Wednesday. The heaviest snow will be across parts of northern Colorado stretching north into Wyoming. A winter storm watch goes into effect tomorrow and includes areas like Fort Collins, Estes Park and Nederland.
Denver7 | Weather
Colorado winter blast: Denver 2 to 4 inches snow this week, higher totals north
11:02 AM, Feb 20, 2023
A Denver7 Weather Action Day is in effect to help keep you prepared with the latest storm timeline and potential snow totals.
Highs on Wednesday will drop to the mid-30s, with clearing skies and even colder temperatures for Thursday. It looks like the Denver metro area will see around 2 to 4 inches of snow on Wednesday, with more like 5 to 8 inches near Fort Collins. Some foothills locations west of Fort Collins could see closer to a foot of snow by Wednesday night.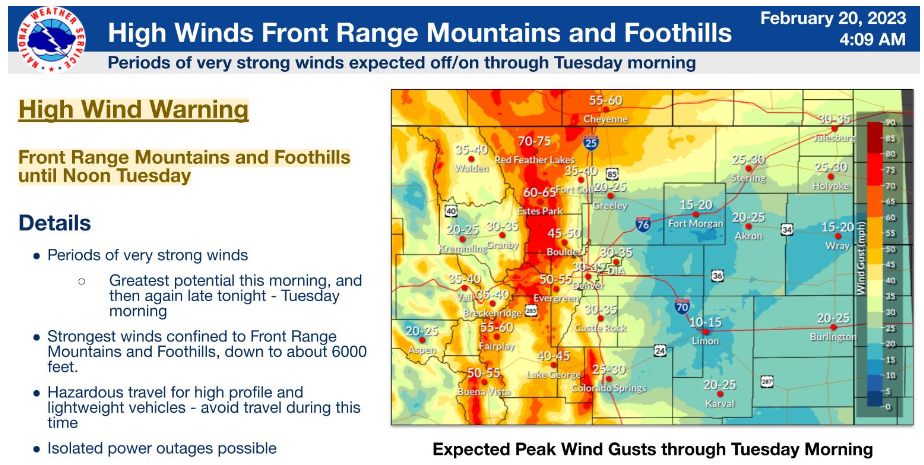 As for the heavy snow in the mountains, the storm will dump the most snow from Tuesday into Wednesday for western Colorado.
We have a Winter Storm Watch in effect for western Colorado for Tuesday and Wednesday for up to 1 to 2 feet of snow.
LEARN MORE: Hourly forecast | Radars | Traffic | Weather Page | 24/7 Weather Stream
Click here to watch the Denver7 live weather stream.
Denver7 Weather