With three games behind them, the Colorado Rockies already have a winning series under their belt. They won two of three games against the Diamondbacks in Arizona.
Friday, they'll play their first home game of 2016. This is everything you need to know about Opening Day:
1. Colorado Rockies v. San Diego Padres
Start time: 2:10 p.m. Batting practice should start about 2 hours before game time. Gate A opens at 11 a.m. for rooftop access. The rest open at noon.
TV: Root Sports
Radio: KNRV 1150 & KOA 850 on radio
This will be Colorado's first game out of Arizona in more than two months.
2. Weather: Perfect for an opening day in Colorado. Expect highs around 70 degrees and sunny skies!
3. Pitchers: Jordan Lyles will start for Colorado and Colin Rhea will start for San Diego.
In Rhea's final start of 2015, he threw seven scoreless frames against... the Rockies.
Lyles had only 10 starts last season because of foot surgery. He finished spring training with a 7.11 ERA but manager Walt Weiss told the Denver Posthe's confident in Lyles: "Sometimes the command got away from him, but he's working on some things. But he will be fine."
4. Opening day winning streak
The Colorado Rockies have won their last three home openers. The Rockies last hosted the Padres for opening day in 2010. The Rockies won 7-0.
5. This is the 22nd Opening Day at Coors Field. The first was on April 26, 1995.
6. America's Pastime: It's this year's theme. Festivities include a parade that will pay tribute to the military. A flyover featuring F-16C jets from the 120th Fighter Squadron of Buckley Airforce Base will follow the parade.
7. Ceremonial first pitches: Three ceremonial first pitches will be thrown out on Opening Day 2016.
The first will be George Frushour who represents longtime sponsor King Soopers, providers of the 2016 Rockies Magnetic Schedule handed out to all fans at the gates on Opening Day.
Tom Ricca, an original Season Ticket Holder from 1993, will throw out the second ceremonial first pitch.
Lastly, Denver Police Officer Tony Lopez Jr. will be the 2016 Opening Day honoree for his heroic recovery from multiple gunshot wounds this past December. Officer Lopez will be joined on the field by his family and the first responders who saved his life.
8. Pre-game festivities
The annual Opening Day Fest on Blake and 21st Streets will be open from 11 a.m. until pregame ceremonies begin at 1:30 p.m., offering games and activities for adults and children. The Rooftop also opens at 11 a.m., and fans can enjoy music spun by DJ Chris Marez and pregame drink specials until first pitch at 2:10 p.m.
Nolan Arenado and Carlos Gonzalez will be recognized before the game for their 2015 seasons. Third baseman Arenado will receive four awards for his stellar season on both sides of the ball, including the Louisville Slugger Silver Slugger Award alongside fellow winner, outfielder Gonzalez, for having the best offensive seasons at their positions in the National League. Arenado will also be presented the Rawlings Gold Glove Award and the Wilson Defensive Player
Award as the best third baseman in the National League, and the Mel Ott Award for being the league's home run champion.
9. Denver is decorated: A purple stripe has been painted down Blake Street, as is tradition!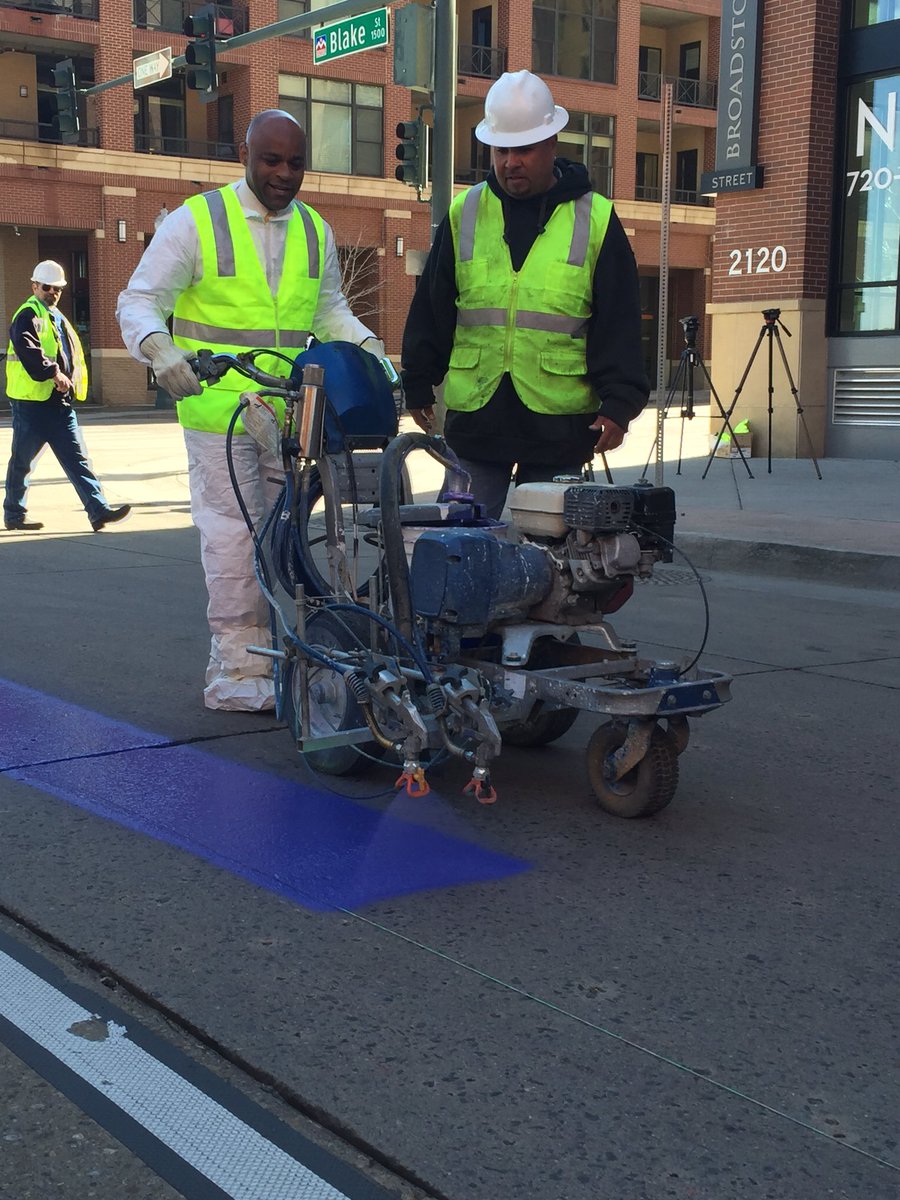 10. Music
The "Star Spangled Banner" will be performed by U.S. Air Force's Vector Brass, featuring vocalist A1C Danielle Diaz. The 7th Inning Stretch Salute to Heroes will feature Major Paul Roque, and then "God Bless America" will be performed by Technical Sergeant Chris Hammiel.
11. Off to a hiSTORY making season
Get ready for a show. Shortstop Trevor Story hit a home run in each of the first three games of his MLB career. He's the first player to ever do this in the history of the league! He's now up to four homers this season. As Associated Press sports writer Bob Baum said, "Story hit four home runs in the dry desert air of Arizona and there's no telling how many he'll hit in notoriously hitter-friendly Coors Field in Denver." Depending on how things shake out at home, Story could be the fastest player to score five home runs in his career.
New record: Story is first MLB player to hit a home run in each of first 3 games
12. The Reyes question mark
You'll notice someone is missing. Prosecutors dropped charges against shortstop Jose Reyes, who was accused of domestic violence against his wife, because she wouldn't testify. However, the MLB hasn't ruled on a punishment, or said if he'll be punished at all. Reyes is the team's highest-paid player with $22 million this year. He began getting paid when the season began Sunday but he didn't appear at all in spring training, and wasn't in any of the games in Arizona... See above - cc: Trevor Story
13. Pay up if you want a ticket
Opening Day is sold out. The cheapest tickets on StubHub Thursday morning were going for $84 each.
14. Pick your seats wisely
And speaking of Trevor Story... according to SeatGeek.com, players hit 202 home runs at Coors Field last season, 118 of which were catchable. It's the 4th best stadium in the league. "The left side of the outfield is the place to sit for fans seeking a home run ball at a good value – sections 152 through 156 were landing spots for nearly half of the stadium's catchable homers, with tickets reselling for no more than $20 on average. On the right side, much of the space beyond the wall is taken up by bullpens and landscaping, but section 106 could be a smart investment as lefty Geraldo Parra will join the Denver lineup in 2016."
BUT... The outfield walls have been raised in two places since last season, to make it a little easier on pitchers. The Rockies raised the outfield wall between right-center and right field to 16 feet 6 inches. The wall by the left field line now stands at 13 feet tall.
Related: 16 secrets of Coors Field
15. Getting to Coors Field:
RockiesRide buses will run all weekend and all season. They leave stops up to 2 hours early and arrive no later than 30 minutes before first pitch. Check out the map showing each stop.
Rail: Catch the C, E, or W rail lines to Union Station or the D, F, or H lines to the 16th/California or 16th/Stout stations. Then jump on the Free MallRide to 16th & Blake and walk toward Coors Field.
Related: Homeless advocates may protest Opening Day at Coors Field
16. Parking:
"Coors Field parking lots are staffed and operated by Central Parking Systems, (303) 312-2040. Advance individual game parking passes are available in Lot A for $16 and Lot B for $14. Game day prices are $17 and $15. Parking passes can be purchased in advance at the Coors Field Ticket Office, Colorado Rockies Dugout Store, by phone at 303-ROCKIES (762-5437) or online at www.rockies.com. RV and bus parking is available for $25 at 22nd and Wazee Streets, and 27th and Blake Streets. Motorcycle parking is available in Lot B."
Lots will open at 9 a.m. Friday.
17. Security: You will go through metal detectors to get into the game. Fans can keep on shoes and belts but cell phones, cameras and keys will need to be dropped before passing through. Fans should allow extra time to go through security on Opening Day.
18. Bag Policy: "Coors Field regulations allow only soft-sided bags and containers 16"x 16"x 8" or smaller to be permitted in the gates. All permitted bags are subject to search both upon entry and within the ballpark (see Searches). All gates utilize "Inspection Lanes" for Guests carrying permitted items. Coors Field regulations also prohibit guests from bringing certain items into Coors Field. See Restrictions for a list of prohibited and permitted items."
Prohibited items:
Alcoholic beverages, illegal drugs, or marijuana (medical or otherwise) in any form
Non-alcoholic beer or similar items
Glass bottles and aluminum or metal cans (including any aerosol cans)
All hard-sided coolers and containers, regardless of size
All hard-sided briefcases, regardless of size
All soft-sided bags and containers larger than 16"x 16"x 8"
Camera tri, dual or single leg pods by non-media personnel. Video cameras are permitted as long as live game action is not recorded as specified by MLB Policy (See Cameras and Game Information Prohibition.)
Bota bags or wine skin
Sticks or clubs (including signs attached to sticks)
Fireworks
Firearms or other weapons
Bullhorns or noise makers
Confetti, soap bubbles
Animals (except trained service dogs for Guests with disabilities)
Beachballs, balloons and other inflatables
Skateboards, rollerblades or shoes with wheels (Heelys)
Stools or folding chairs
Large squirt guns or super soakers
Fishing nets, poles or ball retrieval devices
Any fruit or vegetable larger than a grapefruit must be sliced
Selfie Sticks
Laser pointers
Insulated coolers, cups and thermoses larger than 22 ounces
Pizza boxes larger than personal size
Frisbees
Hoverboards
Masks (See Clothing)
19. If you can't get into Coors, several bars downtown are hosting Rockies events. Westword listed the best bars to celebrate game day.
20. Come hungry! Coors Field has new food options to try, like the pork chimichurri tostada sandwich.