OK. This is what we know: Von Miller doesn't suck at football. Von is the NFL'S standing MVP after dominating the Panthers in Super Bowl 50. He's had 60 sacks and 260 combined tackles in 72 games, and he's a four-time Pro Bowl pick. Miller had a huge hand in the Broncos' Super Bowl 50 win by forcing a couple of Cam Newton fumbles and scoring 2.5 sacks.
This is what you may not know about No. 58:
His full name is Vonnie B'Vsean Miller Jr. Von just celebrated his birthday on March 26, turning 27-years-old.
He has a younger brother named Vinsynzie, who's very proud of No. 58.
He's a chicken farmer. Von even majored in poultry science in at Texas A&M. Miller wants to raise chickens full-time once he retires from the league. He already owns dozens of chickens but the roosters are his favorites. He got into poultry because he wanted an "easy" class but his professor inspired him.
>
If chickens don't work out, there's professional dancing. Von has been fined more than $11,000 for unsportsmanlike conduct because of thrusting during a Lions game this year. His dance moves are a tradition after big Broncos plays. Now he's being fined by Witney Carson, his Dancing with the Stars partner. Von is on season 22 of the competition show, putting his famous moves on display for primetime TV. Carson reportedly fines him for every minute he's late to dance practice! Catch Von on DWTS on Denver7. It airs Mondays at 7 p.m. P.S. - Witney bought Von a chicken cake for his birthday!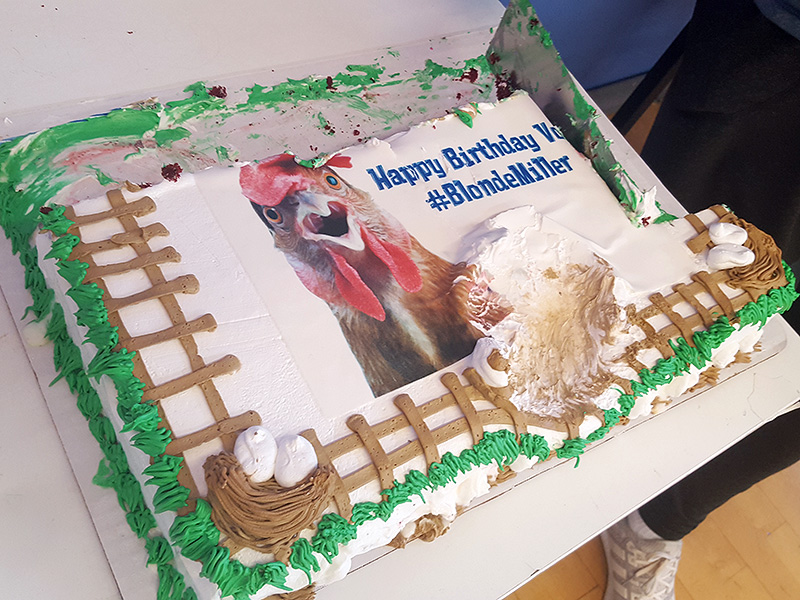 Photo embedded from People Magazine
He's a fashion icon. See below:
He runs a charity. Von's Vision provides low-income Denver children with the eye care and corrective eyewear so they can see in class.
Von's dad didn't want him to play football. His mom Gloria enrolled him in pee-wee football anyway in fifth grade. She hid his pads and washed his jersey late at night so Dad didn't know. Von Sr. found out a year later, but Von was too far into it to stop then.
Von says Denver is a lot different than his home in Texas. Temperatures can be bad but the altitude is the worst. Von is no more acclimated than his visiting opponents.
The Broncos love to hang out at his house. Earlier this year, Emmanuel Sanders told The Dan Patrick Show that they'll stay up late at Von's place after every game during the regular season. He has a bar and games in his basement, which has been dubbed Club 58.