Strong winds pushed across parts of Colorado earlier Wednesday morning, moving smoke from the Cameron Peak Fire in Larimer County into northern Front Range communities. More windy conditions are expected through the morning and afternoon ahead of a cold front.
A Red Flag Warning is in effect for much of the state until 6 p.m., including the Denver metro area, southern foothills, South Park, Palmer Divide and portions of the eastern plains. There are also Red Flag Warnings across southwest Colorado. In addition, a High Wind Warning has been issued for Rocky Mountain National Park, the Medicine Bow Range and the northern Front Range foothills until noon.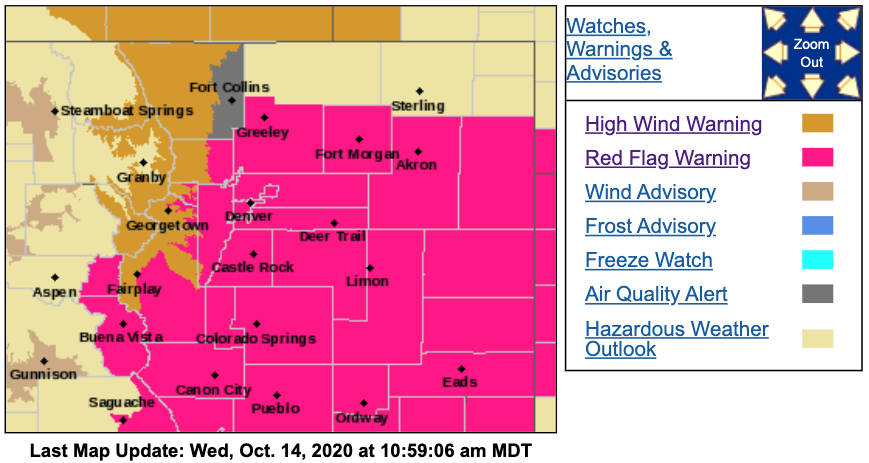 Multiple new voluntary and mandatory evacuations were ordered for the 135,556-acre Cameron Peak Fire on Wednesday morning after winds between 50 and 60 mph ripped across the blaze. This is creating challenging conditions for firefighters. The Red Flag Warning will extend through 10 p.m. for the area of the fire, according to the Rocky Mountain Type 1 Incident Management Team. The fire is currently the third-largest wildfire in Colorado history, and closing in on becoming the second-largest. It is 56% contained.
Smoke from the fire is spreading east over Fort Collins, Loveland and Greeley, NWS said.
Winds at higher terrain could reach up to 80 mph in the mountains and northern foothills, NWS said. Berthoud Pass measured a wind gust a 104 mph at 9:15 a.m. Wednesday.
Cameron Pass saw a 73-mph gust just after 5:30 a.m., and Glen Haven saw 69 mph gusts at 12:25 p.m. Wednesday near the Cameron Peak Fire.
NWS said some of these strong winds may result in property damage.
Wind gusts will increase across the plains late morning through early afternoon, before a cold front pushes south this evening. Peak wind gusts of 40-45 mph likely across the plains. #COwx pic.twitter.com/gaUXJtjCwi

— NWS Boulder (@NWSBoulder) October 14, 2020
CDOT announced around 10:50 a.m. that Interstate 25's northbound lanes were closed at the Wyoming border to light, high-profile vehicles due to the wind. Other vehicles are permitted, though drivers should be aware that winds are blowing about 34 mph, with gusts up to 54 mph, according to CDOT.
Wind gusts will also increase across the eastern plains by the late morning and through the early afternoon ahead of a cold front, NWS said. The plains could see gusts maxing out around 40 or 45 mph.
Windy conditions will start to decrease across Colorado by the afternoon and early evening as a cold front moves in. This will bring cooler temperatures and higher humidity, according to NWS.
The winds are moving smoke across the northern Front Range, which has led to poor air quality across several communities.
The Colorado Department of Public Health and Environment issued an air quality alert from 9 a.m. through 4 p.m. for Larimer County due to the smoke.
CDPHE recommends staying inside if the smoke becomes thick in your neighborhood, especially for residents who have heart disease, respiratory illnesses or are very young or elderly.
Conditions are expected to clear up by the afternoon, when the winds ease up. However, this is dependent on any growth at the Cameron Peak Fire.
CDPHE said air quality may also decrease due to smoke produced by the Middle Fork wildfire in Routt County, the Mullen wildfire in south-central Wyoming and northern Jackson County, Colorado, and the Williams Fork wildfire in Grand County.
Click here for the latest on air quality advisories in Colorado. Click here for Colorado's smoke outlook.
Looking ahead, fire danger will elevate again during the afternoon and evening hours of Thursday through Saturday.