UPDATE (4:10 p.m., Saturday, Aug. 15, 2020): The Pine Gulch Fire saw minimal growth Friday, growing to 74,807 acres from about 73,000 on Thursday, with 7% containment as of Saturday morning. Officials said fire activity picked up in the southwestern portion of the fire Saturday afternoon when the wind shifted. Click here for the latest.
---
Overnight mapping of the Pine Gulch Fire measured the blaze at more than 73,000 acres, which ranks it as the fourth-largest wildfire in Colorado history.
The Rocky Mountain Type 1 Incident Management Team assumed command of the fire Friday morning.
According to the management team, the fire was 73,381 acres and 7% contained as of Friday at 11:40 a.m. On Thursday evening, the fire was measured at 68,323 acres.
READ MORE: CDOT asking travelers to avoid driving west this weekend due to wildfires
The team said crews will continue monitoring, patrolling and improving the current fire lines on Friday. Since they expect winds in the afternoon from the northwest, they also plan to scout new options for fire lines.
Bulldozers and crews on the ground will also continue working along the fire's northern edge and the east side of County Road 204, the team said.
The fire's northwestern side was active on Thursday, so crews are expected to continue to work to secure the fire lines in that area. Crews on the northeastern edge have been able to hold the fire down along County Road 204. Firefighters on the eastern side of the blaze have had a quiet few days, though afternoon winds may create more fire movement, the team said.
About 800 people are working to control the fire, according to officials.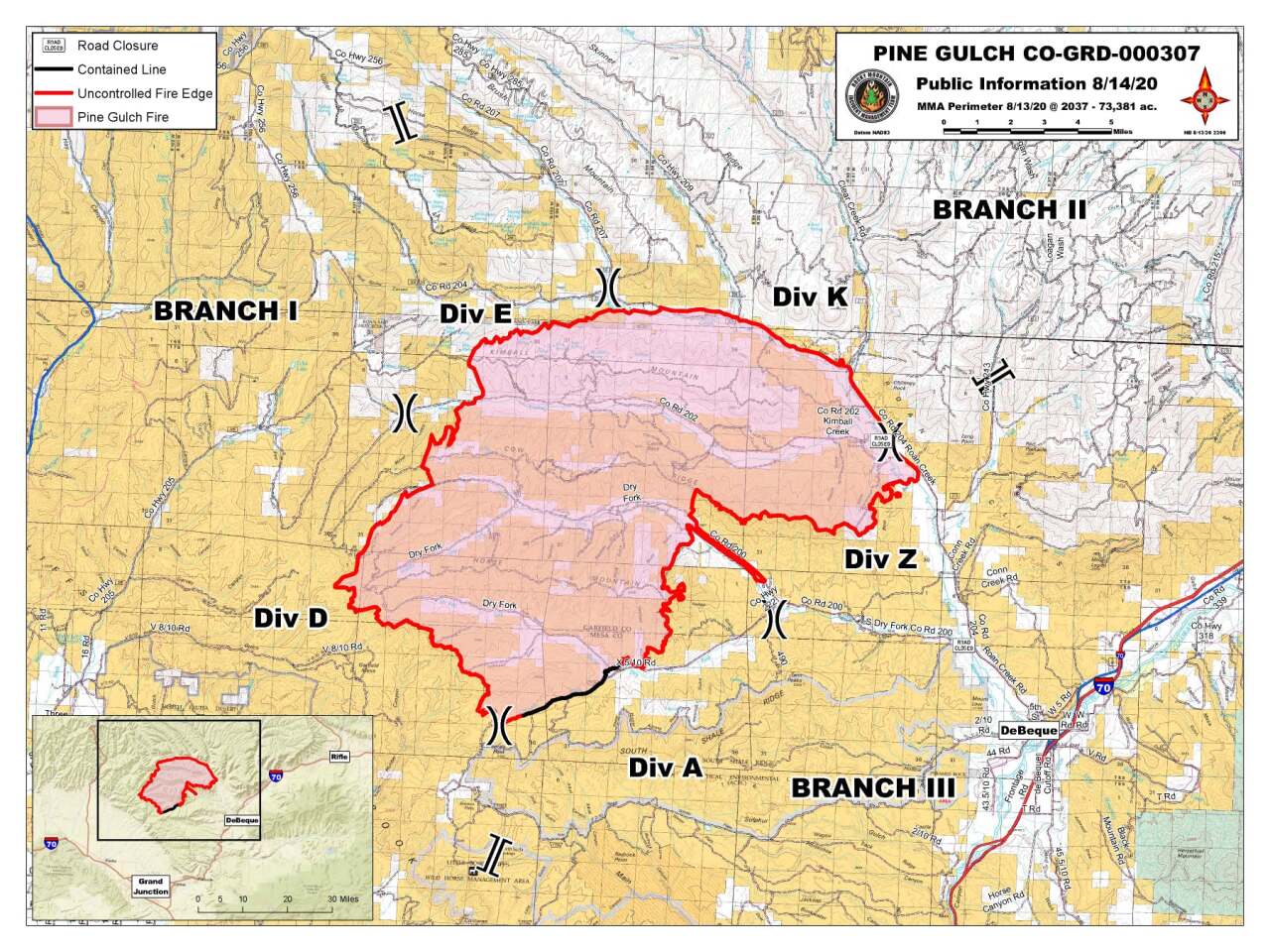 Fire personnel will have less wind to deal with on Friday than previous days, however down-valley winds of 7-10 mph and gusts up to 15 mph are still expected, the team said.
As of Friday morning, there were no reported injuries or damaged structures due to this fire.
Gov. Jared Polis and the executive directors of the Department of Public Safety and Department of Transportation visited the incident command centers of both the Grizzly Creek and Pine Gulch fires Friday morning to meet with firefighters and other workers on the front lines of the fires. The governor is expected to brief Colorado's congressional delegation on Friday afternoon.
"The Pine Gulch Fire could threaten Debeque although firefighters are hopeful that natural rocky barriers will delay or prevent it from reaching the town. The winds from the Northwest the next few days are also helping firefighters protect the Roan Creek Road area," Polis said in a statement.
"It's no question that this is a difficult time for Coloradans, especially those in the vicinity of the fires, and we appreciate our emergency first responders and public safety workers now more than ever." the governor added. "Colorado communities are struggling with the effects of severe statewide drought and have proven our resiliency time and time again, and I know this time will be no different."
The Pine Gulch Fire was sparked by a lightning strike on July 31 about 18 miles north of Grand Junction. It is burning in remote and rough terrain.
RELATED STORIES: Click here for more Denver7 coverage on the Pine Gulch Fire and other current wildfires
The state's 10 largest fires in history, ranked by acreage, are:
1. Hayman Fire (2002): 137,760 acres
2. Spring Fire (2018): 108,045 acres
3. High Park Fire (2012): 87,284 acres
4. Pine Gulch Fire (2020): 73,381 acres
5. Missionary Ridge Fire (2002): 72,962 acres
6. 416 Fire (2018): 54,000 acres
7. Bridger Fire (2008): 45,800 acres
8. Last Chance Fire (2012): 45,000 acres
9. Bear Springs/Callie Marie fires (2011): 44,662 acres
10. 117 Fire (2018): 42,795 acres
The Rocky Mountain Area Coordination Center said the West Fork Complex fire, which burned a total of 109,632 acres in 2013, is not included on this list since it involved three separate fires.
The Pine Gulch fire burning near Grand Junction grew to over 73,000 acres overnight, making it the fourth-largest wildfire ever recorded in Colorado. pic.twitter.com/nKbsn9Uiwh

— Mt View Fire Rescue (@MVFireRescue) August 14, 2020
The Colorado Department of Public Health and Environment issued an Air Quality Health Advisory for areas east of the Pine Gulch Fire and Grizzly Creek Fire, which has, so far, burned more than 14,000 acres near Glenwood Springs.
In addition, the Cameron Peak Fire in Larimer County has grown to more than 2,000 acres.
Click here to learn more about the smoke outlook in Colorado.
A temporary flight restriction is in place over the Pine Gulch Fire. No drones can fly in the area.
There have been several evacuations for the Pine Gulch Fire, though no new orders have been announced since Sunday evening.
That day, the Garfield County Sheriff's Office ordered evacuations for residents on the following roads:
Roan Creek Road/County Road 204 (road closure also in effect)
Clear Creek Road/County Road 211
Carr Creek Road/County Road 207
Brush Creek Road/County Road 209
Residents on Kimball Creek Road/County Road 202 were evacuated on Saturday. Authorities have closed that road.
To learn more about these evacuations, click here.
Residents in the affected counties can sign up to receive alerts and new information on the fire here for Garfield County and here for Mesa County.