A Thunderbirds jet went down and the pilot ejected Thursday afternoon, according to John Van Winkle with the Air Force Academy.
The F-16 jet went down at about 1 p.m. in Widefield, which is south of Colorado Springs, Van Winkle confirmed to Denver7.
The pilot of the #6 Thunderbirds jet, identified as Maj. Alex Turner, ejected safely and is walking around unhurt, according to the US Air Force Air Combat Command.
"The pilot ejected safely and was recovered by first responders," Thunderbirds officials tweeted.
ABC news reported that President Obama thanked Turner for his service and expressed relief he wasn't seriously injured.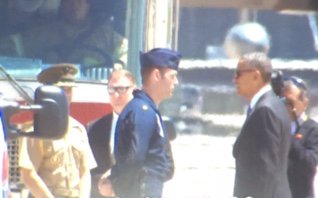 (PHOTO: ABC News)
"No one was hurt on the ground and here is no hazard to the public," Thunderbirds officials stated on Twitter. "The cause of the crash is unknown at this time."
Turner has logged over 1,500 hours in the F-16 but this was his first show season with the team, according to Lt. Col. Christopher Hammond with the Thunderbirds. Turner joined the team back in October of 2015.
During a press conference on Thursday evening, a reporter asked an official at Peterson Air Force Base if the F-16 had ran out of fuel. This was his response:
VIDEO: When asked if @AFThunderbirds F-16 ran out of fuel, here is the answer until official statement comes out. pic.twitter.com/srHG4v8OOl

— James Dougherty (@DoughertyKMGH) June 3, 2016
The Thunderbirds performed a fly-over at the Air Force Academy graduation ceremony Thursday.
U.S. Air Force Academy cadets toss their hats in the air upon graduating as Air Force Thunderbirds fly overhead. https://t.co/CV2e7LeEB4

— ABC News (@ABC) June 2, 2016
Flyover by the USAF Thunderbirds an annual highlight at the @AF_Academy Commencement. pic.twitter.com/1wgVql3oF5

— Mark Knoller (@markknoller) June 2, 2016
The official Thunderbirds website describes their flight demonstration as follows:
"The sharply choreographed, drill-style ground ceremony kicks off the demonstration by showcasing the attention to detail and esprit de corps that defines our enlisted members. As the jets take to the skies and fly only a few feet from wingtip to wingtip, the crowd gets a glimpse of the awesome skills and capabilities that all fighter pilots must possess. The solo pilots integrate their own loud and proud routine, exhibiting some of the maximum capabilities of the F-16 Fighting Falcon – the Air Force's premier multi-role fighter jet."
Click here for short biographies of the team's current officers.