Snowy side streets caused problems for drivers Wednesday morning.
Our own live truck got stuck in the snow as we left the garage to report on the conditions.
We are stuck ! But still going live on road conditions and what you can expect this morning @DenverChannel pic.twitter.com/wQ5iINJHP1

— Sally (@sallymamdooh) December 16, 2015
More than 10 inches of snow fell in parts of the metro area Tuesday.
Icy roads are going to be an issue this morning. We are live @DenverChannel all morning with more pic.twitter.com/DaXmFXNw1z

— Sally (@sallymamdooh) December 16, 2015
Snow removal crews in Aurora are focusing on the main streets and bus routes and skipping most residential neighborhoods.
"Primary routes have all been plowed and deicing chemicals have been applied," Aurora officials said on Facebook Wednesday morning. "Low temperatures are hampering any melting so streets still have snowpacked and icy sections."
In Denver, the Department of Public Works had dozens of residential snow plows working on clearing the streets overnight.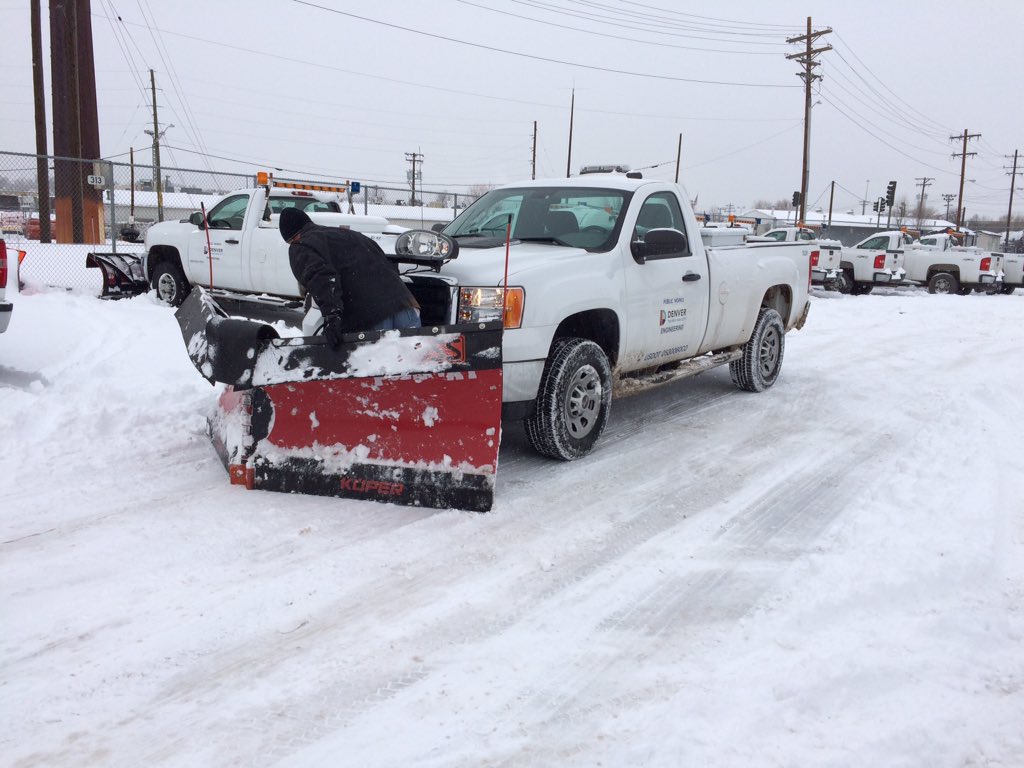 The city deployed 96 4x4 plow trucks at 9 p.m. They were scheduled to continue plowing through 9 a.m.
Our big plows and small, residential plows are still out this morning, cleaning up after the storm. Drivers, pls continue to use caution.

— Denver Public Works (@DenPublicWorks) December 16, 2015
Denver Public Works, as well as Parks and Recreation drivers, were assigned to make a single pass down each of Denver's residential streets, shaving off the top few inches of snow pack to make the roadways more driveable and prevent deep rutting.
MORE | Denver is deploying dozens of residential snow plows
Conditions on the highways varied widely across the metro area Wednesday morning.
Well this will be an interesting commute. There are some places where you see pavement, others you only see snow. pic.twitter.com/R4xJyHBbu4

— Jayson Luber (@Denver7Traffic) December 16, 2015
Denver7 Traffic Anchor Jayson Luber was already seeing multiple crashes on Interstate 70 at 5:15 a.m.
Three crashes on 70 just called out. They are between Vasquez and Chambers. We will see lots of spinouts today. pic.twitter.com/n1g9vbQiJy

— Jayson Luber (@Denver7Traffic) December 16, 2015
There were also two crashes on Interstate 25, south of Denver, Wednesday morning.
This is the non-injury rollover on SB 25 at Dry Creek. Minimal delays right now. pic.twitter.com/cTqJmGXLwv

— Jayson Luber (@Denver7Traffic) December 16, 2015
The other crash was on southbound I-25 near 470.
"Nearly double the commute time on SB 225 from before Parker Rd to I-25. Heavy volume and slick roads to blame," Luber reported at 6:30 a.m.
The sun will start to break up the snow but it is brutal to look at when going SB on 25 past Univeristy. pic.twitter.com/rb08uj09NM

— Jayson Luber (@Denver7Traffic) December 16, 2015