Denver officials cleared a homeless camp near a shelter downtown Tuesday afternoon.
#BREAKING: Denver police, public works on site clearing out belongings from homeless at Lawrence & 24th St. pic.twitter.com/hj6ag3lfEx

— Jennifer Kovaleski (@JennKovaleski) March 8, 2016
Crews were bagging up and clearing out belongings from homeless people who refused to leave the area, Denver7's Jennifer Kovaleski reported.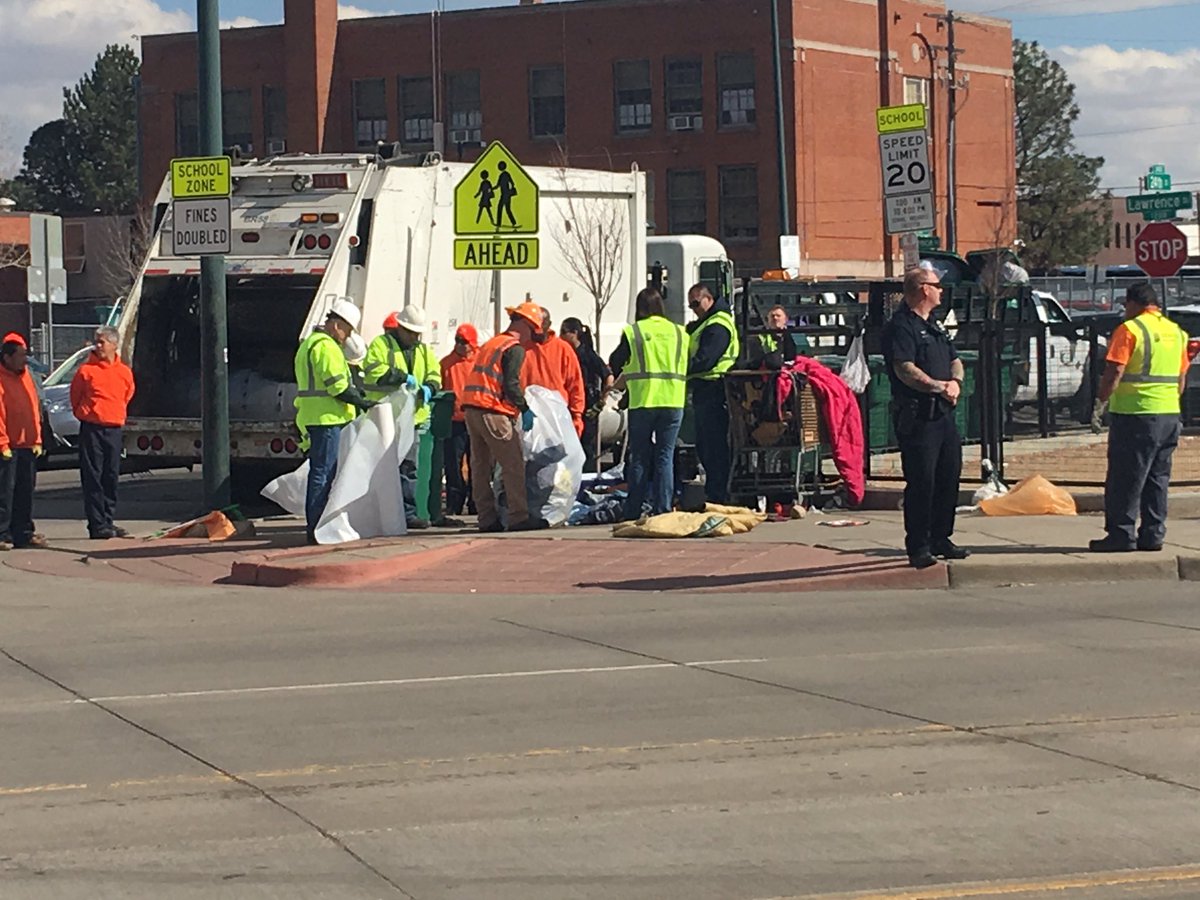 Heavy police presence from #Denver PD as crews bag up belongings from homeless. Protestors already yelling. pic.twitter.com/CReS5At8SZ

— Jennifer Kovaleski (@JennKovaleski) March 8, 2016
In the morning, police also removed a group from private property nearby.
Denver PD just came by this "camp" off Broadway, said it was private property, and asked all people to move out pic.twitter.com/FVG0F0FYeJ

— Jason Gruenauer (@JGonTV) March 8, 2016
Protesters began rallying before sunrise Tuesday against the plan to require the homeless to move off public property.
About a dozen people gathering so far at Park & Lawrence to stand against homeless camp clearing @DenverChannel pic.twitter.com/EMrlJgpf36

— Jason Gruenauer (@JGonTV) March 8, 2016
Denver was expected to begin clearing homeless camps on Tuesday.
A notice posted Monday morning stated Denver Public Works would begin enforcing a rule that allows the city to remove any items left on the sidewalk or on public property. It's part of the city's ban on "urban camping."
READ: City of Denver Sweep Notice
City officials say the site has become a public health concern despite their efforts to reach out to the homeless.
"We have no other place to go. Homeless is homeless. How would you feel if someone came to your home and said you can't live there anymore?" one woman said.
As the group of protestors grow, this sign shows what their position is on clearing of homeless camps @DenverChannel pic.twitter.com/05g5UyWS88

— Jason Gruenauer (@JGonTV) March 8, 2016
MORE | Group calls on mayor to put a stop to sweeps
"We understand it's definitely not a fun thing to take people's items. The City had to make a big decision about that," said Alexa Gagner with the Denver Rescue Mission. "It's not going to be an easy situation no matter what."
The city said it will first give people a verbal warning. If that isn't followed, it will result in a written citation and then, ultimately, there could be arrests.
The items will be taken to a warehouse, where they can be claimed, city officials said.
MORE | Denver could begin clearing homeless camps on Tuesday
A few more signs, but everything's peaceful as #homeless & supporters rally for #righttorest #Denver @DenverChannel pic.twitter.com/8unZ2HkTa1

— Jason Gruenauer (@JGonTV) March 8, 2016
People are still at Park & Lawrence against the city's plan to sweep away homeless camps @DenverChannel pic.twitter.com/gqHe5cgMMW

— Jason Gruenauer (@JGonTV) March 8, 2016