This weekend people around the country showed their gratitude to law enforcement for "Thank a Police Officer Day."
Agencies in Colorado shared the kind gestures they received on Twitter.
They showed off homemade cards, gift bags, even flowers.
"#Humbled by thanks and roses from a young citizen. We love our job!" the Arapahoe Sheriff's Office tweeted.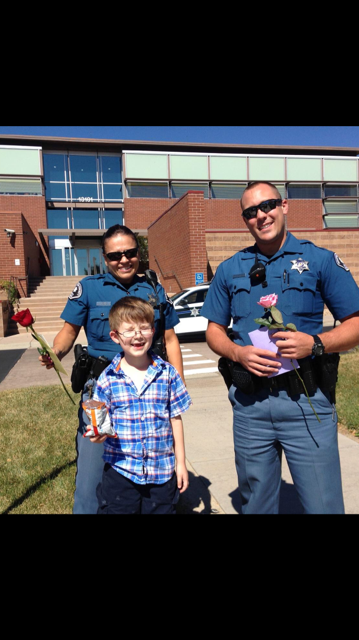 "To all who "Thanked a Police Officer" - It is truly appreciated!" the Lakewood Police Department tweeted.
Lakewood Police also shared a funny note they received.
The Colorado State Patrol in Larimer County tweeted: "Thank you for showing us support northern Colorado."
But a woman in Evans says one day a year to show support for men and women in blue isn't enough.
"My stepdad is actually a police officer, currently in the Seattle, Washington area," said Katrina Hughes. "I know he's under a lot of pressure and stress right now."
Hughes has started putting together gift baskets for law enforcement in northern Colorado. She delivered the first round a few weeks ago-- with candy, snacks and items to use on the job like hand sanitizer, pens and notebooks. She also included hand-written cards.
"It's just to show the police departments, in this rough time that they're having, that everybody in the community is supporting them," Hughes said. "That we have their backs and are here for them also. Giving them a little treat just to say thank you."
Hughes has pictures of the deliveries she made to Greeley, Fort Collins and Loveland police on a Facebook page she created. On the page, she included details on how to help with the next delivery she's planning for October. Hughes said she isn't looking for cash, but items for the baskets that can be purchased through a Walmart registry she created.
"If you don't have the money to help right now, (you can make) cards. They loved reading all the little cards we did last time," she said.