Colorado is known for its world-class ski resorts. Areas like Vail, Aspen, and Telluride draw thousands of people every season and pour millions of dollars into the economy.
But the state has a rich history of winter sports, hosting more than 175 ski areas since the mid-1800s. Well-known areas include Hidden Valley in Estes Park, Broadmoor in Colorado Springs and Cuchara Mountain Resort in southern Colorado, the latter of which will likely see a comeback in the coming years .
With the help of the Colorado Snowsports Museum and Hall of Fame and ColoradoSkiHistory.Com, here are seven forgotten Colorado ski areas that might trigger warm memories for those lucky enough to experience Colorado's lost ski history.
The Arapahoe East Ski Area opened in 1972 and shut down in 1984. It changed its name to Ski Golden in 1982, just two years before closing.
It was located at 1164 Grapevine Road, just off Interstate 70 in Genesee. It was only about 17 miles from downtown Denver.
The resort had one double lift and one surface lift. It had a base of 6,800 feet and a summit of 7,400 feet, according to ColoradoSkiHistory.Com.
It was closed down after several violations, including accusations that staff members were drinking while on the job.
More information and shared memories of Arapahoe East Ski Area can be viewed here.
Ski Broadmoor opened in 1972 and shut down in 1991. It was owned and operated by the Broadmoor Hotel until it was sold to the City of Colorado Springs in 1986.
After two years under the city's ownership, it was sold to Vail, which operated the resort until 1991.
Ski Broadmoor had one double lift and one tow lift with a base of 6,459 feet and a summit of 7,084 feet.
It's two runs on the side of Cheyenne Mountain are still viewable today.
More information and shared memories of Ski Broadmoor can be viewed here.
Located in the foothills of Jefferson County, Fun Valley was mostly an intermediate mountain. It started in 1938 as Watson's Ski Hill.
Revived in the mid-60s, it added a single chairlift from Arapahoe Basin, night skiing, and music.
It was briefly considered as a potential ski jump location for the ill-fated 1976 Denver Olympic bid.
It closed in 1977 due to unpredictable snow and unsupportive neighbors.
Today, it sits on private property. The single chair lift was removed and sold in the 90s.
More information and shared memories of Fun Valley can be viewed here.
Once owned by former Gov. Roy Romer, Geneva Basin was opened as Indianhead Mountain in 1962, offering an "Eastern flavor," with challenging terrain and often-cold weather.
It had a double chair summit of 11,750 feet and a base of 10,500 feet. By 1974, a Heron-Poma double chair was installed, which replaced the Sundance T-bar. During the process of many sales, the ski area's maintenance fell behind.
During 1984, an empty chair on the Duck Creek lift fell from the cable. The Colorado Tramway Board shut the ski area down.
Skier numbers totaled 24,490 in Geneva Basin's last season. A revival as Alpenbach failed in 1986.
More information and shared memories of Geneva Basin can be viewed here.
Hidden Valley opened in 1955, but was a favorite ski area for Estes Park locals years before that.
It was run by Estes Park Recreation District, and then purchased by the Park Service. The T-bars, one double chair and surface lifts were eventually sold to Vail.
Hidden Valley's layout was awkward and 70% of the terrain was rated "most difficult." As a result, the National Park Service removed a chairlift and it closed in 1991 due to financial difficulties.
Hidden Valley remains a popular sledding hill for locals in the winter and offers several hiking trails for summer recreation.
More information and shared memories of Hidden Valley can be viewed here.
The Idlewild Ski Area opened in 1961 and shut down in 1986. It was established where downtown Winter Park is now located.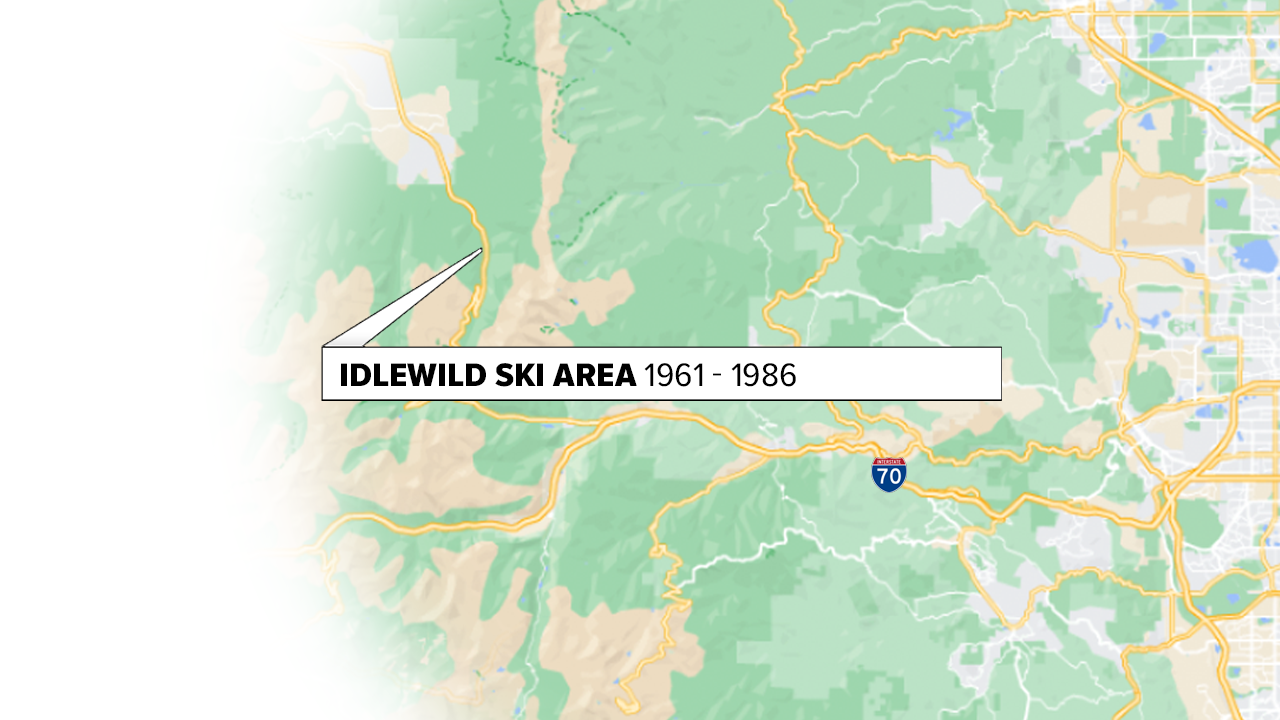 According to the Colorado Snowsports Museum and Hall of Fame, "In 1986, the left sheave train wheel system of the chairlift failed. There were no injuries, but four people had to be evacuated. "
Ski Idlewild couldn't pay the $550 inspection fee and the area was abandoned. The Idlewild Guest Ranch continued its operation as a cross-country ski area and the Ski Idlewild base lodge was closed.
Idlewild Lodge teamed up with Devil's Thumb Ranch, creating a vast network of cross-country trails. In 1994, the Idlewild LodgeHotel was sold and reopened for winter and summer operation until closing in 1996. Up until 2002, the area was serviced by the Winter Park Resort shuttle, which provided free transportation.
More information and shared memories of Idlewild Ski Area can be viewed here.
Saint Mary's Glacier Resort opened in the 1930s and closed in 1986.
According to the Colorado Snowsports Museum and Hall of Fame, "The area is located several miles from I-70, past the town of Alice. The summit is 9,760 feet, with a base elevation of 8,500 feet."
The vertical drop is 1,260 feet. Trails in this area were mostly for expert skiers, with 50% advanced terrain, 10% beginner, and 40% intermediate. St. Mary's ski area had 3 lifts: 1 T-bar (Stadeli) and 2 rope tows. The area had a snack bar, rentals and rustic cabins for lodging nearby.
Ticket prices in 1984 were $7.50 for adults and $3.50 for children. Rentals were available, starting at $6.95 per day for adults.
The area was also called Silver Mountain (1979 - 1980) and Silver Lake prior to that. According to reports, the base area consisted of temporary buildings, with outhouses.
In 2002, there was a proposal to reopen the area as a snowboard resort. Plans were drafted by SnoEngineering but fell through. The area is actively skied almost year-round by backcountry skiers and snowboarders.
More information and shared memories of Saint Mary's Glacier can be viewed here.
From small local ski hills to million-dollar resorts, Colorado is home to hundreds of lost ski areas. Many of the runs and some of the infrastructure can still be seen today, beckoning skiers to take one last run.
You can learn more about Colorado's ski history by visiting ColoradoSkiHistory.com or the Colorado Snowsports Museum & Hall of Fame.
You can visit the museum located on the 3rd level of the Vail Village Parking Structure adjacent to Vail Village Covered Bridge at 231 S. Frontage Road East in Vail. The Museum does not charge admission but as a non-profit, a donation of $10 is appreciated.
The Follow Up
What do you want Denver7 to follow up on? Is there a story, topic or issue you want us to revisit? Let us know with the contact form below.