When the Colorado Parks and Wildlife (CPW) Commission approved the final plan to introduce and manage gray wolves in Colorado earlier this month, a brief section of the plan outlined where those initial donor wolves may come from.
The Colorado Wolf Restoration and Management Plan, approved on May 3, read that "it is desirable" to source these wolves from the northern Rockies, like Idaho, Montana or Wyoming. They may also come from Oregon or Washington. These locations were recommended by other state wildlife management agencies.
Colorado's reintroduction efforts will require roughly 30 to 50 wolves over a three- to five-year span.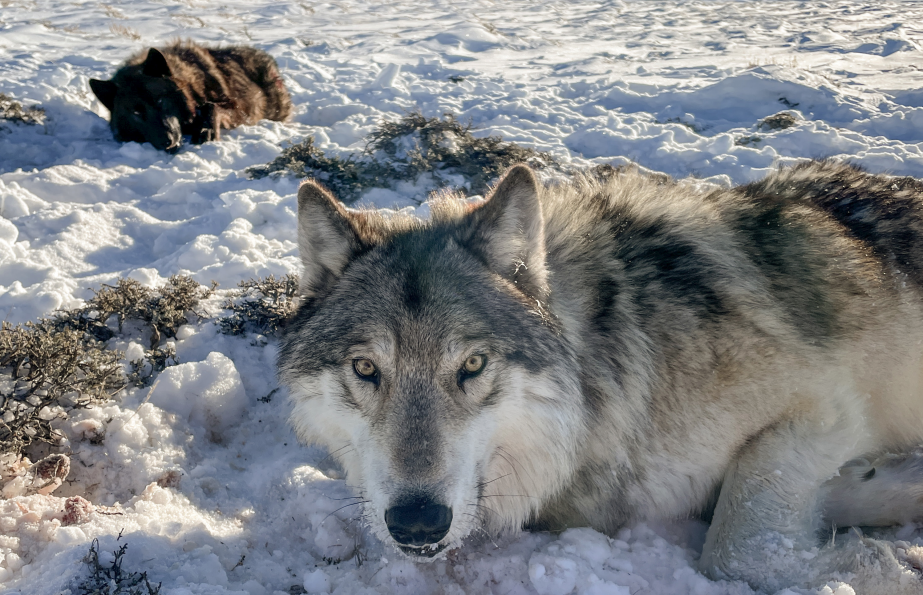 Local News
CPW Commission approves final Wolf Restoration and Management Plan
12:58 PM, May 03, 2023
During the May 3 meeting's public comment period, this aspect of the plan was mentioned multiple times, so Denver7 reached out to each state governor's office or wildlife department to gain insight, as well as check in with CPW for an update on the plan for wolf donations.
"While there have been no formal conversations on source populations, there have been informal discussions with northern Rockies states and CPW will continue these conversations now that the Final Colorado Wolf Restoration and Management Plan is approved," Travis Duncan, public information officer with CPW, told Denver7 on Friday.
Wolves will return to Colorado: What you should know about the reintroduction plan
He said these conversations will happen over the next few months.
In the weeks since Colorado's wolf plan was approved, Denver7 has connected with the possible donor states about this plan. Below are their responses.
Wyoming
Statement from Gov. Mark Gordon
Wyomingites know all too well the challenges associated with introducing a new large carnivore into an existing ecosystem. It does not matter that the wolves may have been a part of the system in generations past; it is still a huge change. Wyoming has the scars and lessons learned from the reintroduction of wolves. Originally gray wolves were to be a Yellowstone National Park population, but not to the surprise of any. Wolves have now been found throughout the state.
Wyoming is opposed to the 10(j) population of wolves in Colorado for a variety of reasons. Our current wolf management plan is working, and it works because it is designed to manage wolves in biologically and socially suitable habitats and to keep wolves out of areas of the state where conflicts would be highest. Our border with Colorado is an unsuitable area for wolves, and that would mean more human conflicts. Resolution of conflicts are almost always deadly to wolves.
Wyoming is opposed to sending Wyoming wolves to Colorado because we carefully and scientifically manage our wolf population. We have target population numbers, and reducing those numbers to support a translocation in Colorado may jeopardize those successful management plans. In addition, it is likely that Wyoming wolves may very well desire to return to their home ranges, once again putting them in danger as they would likely traverse unsuitable areas of potential conflict.
Oregon
Michelle Dennehy, statewide communications coordinator with Oregon Department of Fish and Wildlife
The technical working group decided that Oregon would be an acceptable source for wolves. Colorado Fish and Wildlife and ODFW have had a few informal conversations about it but nothing more.
Washington
Staci Lehman, communications manager for Washington Department of Fish and Wildlife
Washington Department of Fish and Wildlife (WDFW) is aware that Colorado Parks and Wildlife is potentially interested in the wolves in our state but there have been no formal discussions between the two states regarding wolves to date. If Colorado were to make a request or open a dialogue on the subject we are open to the conversation, but there are many factors to be considered so it is impossible to say at this time what the result would be.
Montana
Greg Lemon, head of communications for Montana Fish, Wildlife & Parks
We are not in conversations with any states about translocating wolves.
Idaho
Roger Phillips, public information supervisor with Idaho Fish and Game
Colorado has not requested any wolves from Idaho Fish and Game, but there may have been discussions with the Governor's office that I am not aware of.
(Editor's note: The press secretary for Idaho Gov. Brad Little told Denver7 to contact the Idaho Fish and Game for any information.)
---
The Follow Up
What do you want Denver7 to follow up on? Is there a story, topic or issue you want us to revisit? Let us know with the contact form below.