Hi y'all! Thanks for checking out this week's Rose Report---a blog where I break down the crazy things a group of women do in hopes of winning the heart of Denver's Ben Higgins. A little about myself: I'm a 28-year-old producer, an avid Bachelor/Bachelorette fan (Chris Harrison is my spirit animal) and admittedly, I don't like red roses.
Warsaw, Indiana. That was the scene during this week's episode of The Bachelor, where Ben took the girls to his hometown. It wasn't all fun and games though – it's getting down to the last few girls and that means Ben has some tough decisions to make. If you haven't seen Monday's episode, stop reading now because there are spoilers ahead. I repeat: THERE ARE SPOILERS AHEAD.
The women arrive in Ben's hometown. Call me shallow, but the first thing I notice are the girls' outfits and how most of them are wearing the leather/jean jacket look with the flannel around the waist. Way to be original, ladies. If I saw someone wearing the same outfit as me I would change my outfit. Sorry if that sounds crazy but hey, anything to stand out, right?!
???? Even the leaves are falling for Ben! ???? #TheBachelor pic.twitter.com/cK2jT9Z94v

— The Bachelor (@BachelorABC) February 16, 2016
Ben is clearly so excited to welcome the ladies to his hometown, and that really shows. He takes the girls by boat to a beautiful home on a lake where he spent a lot of his time growing up.
After they get settled, Ben sits down with the girls and asks Lauren B. on a date, and tells her she only has 30 minutes to get ready. All of the other girls are super jeally, especially because it's the first time Ben has asked anyone on a date without a card – they say that makes it more intimate.
?????????@BachelorABC #TheBachelor pic.twitter.com/KWxURQYVgG

— Good Morning America (@GMA) February 16, 2016
Ben takes Lauren on a date around his hometown and shows her his high school. It's definitely a super intimate date. But here's the catch, no rose. NO ROSE. Where's the drama in that?! It's not like Lauren B. would be going home anyway, but you never know. I could use some drama. This season is a little boring to me as far as drama goes. But I think that says a lot about Ben – he's not going to put up with that even if the producers try to force it.
Love him!
Ben takes Lauren to the Baker Youth Club, where Ben worked when he was younger. He told her it's a place that allowed him to help children and made him the man he is today. You can see how happy Ben is being there – his face absolutely lines up around those kids. The two play basketball with the kids and the kids love Lauren.
Really, who doesn't do cartwheels for Ben! #TheBachelor pic.twitter.com/fjcTGNkWWj

— The Bachelor (@BachelorABC) February 16, 2016
Halfway through the date everyone gets a special surprise when Ben brings Indiana Pacers players Paul George and George Hill in to play basketball with the group. The kids were so excited and Lauren was even a little star-struck!
Guess who's on the next episode of #TheBachelor? Check out me & my boy @George_Hill3 on the show on Monday. pic.twitter.com/8b5qLKZG1n

— Paul George (@Yg_Trece) February 11, 2016
The coolest part of the date though was when Ben made a deal with one of the volunteers he used to work with back in the day. The deal was if he could make a half-court shot, Ben and Lauren would have to kiss. Of course, being the baller he is, he made it!
That was awesome. This is pretty heart-warming.@BachelorABC #TheBachelor pic.twitter.com/JHO1NttJsX

— Good Morning America (@GMA) February 16, 2016
Back at the house the girls are anxiously awaiting the date card arrival. It arrives and has JoJo's name on it, saying "let's find love in the windy city." The girls debate what this mean (hello?) before Becca finally says "…but Chicago is the windy city." Atta girl, Becs.
Back on the one-on-one, the sparks are flying between Ben and Lauren. Ben took Lauren to his favorite local dive bar and he was basically treated like a celebrity. At the end of the date, Lauren tells the cameras she's in love with Ben.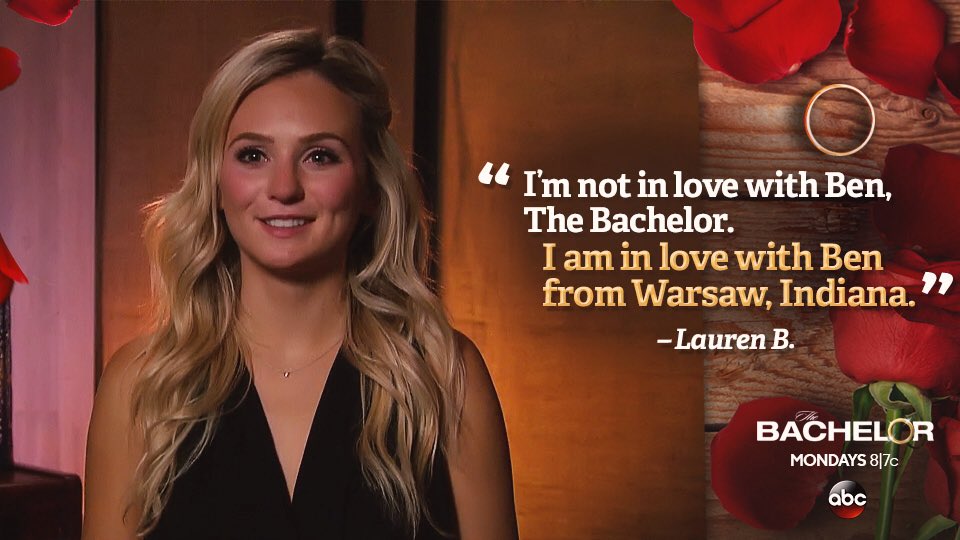 It's time for JoJo's one-on-one date with Ben and she's driven all the way to Chicago. I can already tell, this would be my sister's dream date (John Hake, I'm talking to you!) Ben takes JoJo to Wrigley Field where a sweet message is waiting on the famous marquee for them. The two "lovebirds" go inside to find personalized jerseys – one with "Mr. Higgins" and one with "Mrs. Higgins." Talk about getting ahead of ourselves!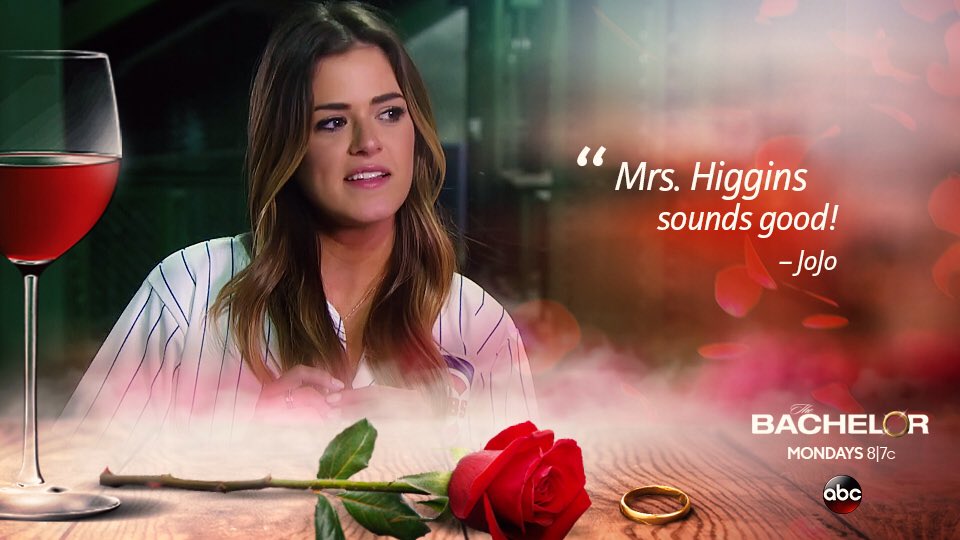 Also, how amazing was JoJo at playing baseball?! Ben was super impressed. Maybe the Cubbies should consider recruiting her.
JoJo may have to join the @Cubs. @BachelorABC #TheBachelor pic.twitter.com/Oy1iu7xzEt

— Good Morning America (@GMA) February 16, 2016
Ben and JoJo lay on the field together and talk about how JoJo is feeling. She tells Ben she's scared because she has trust issues from past relationships that went bad. Later Ben and JoJo have a romantic dinner and JoJo tells Ben that she can confidently say that she cares for him more than anything. Ben is over the moon.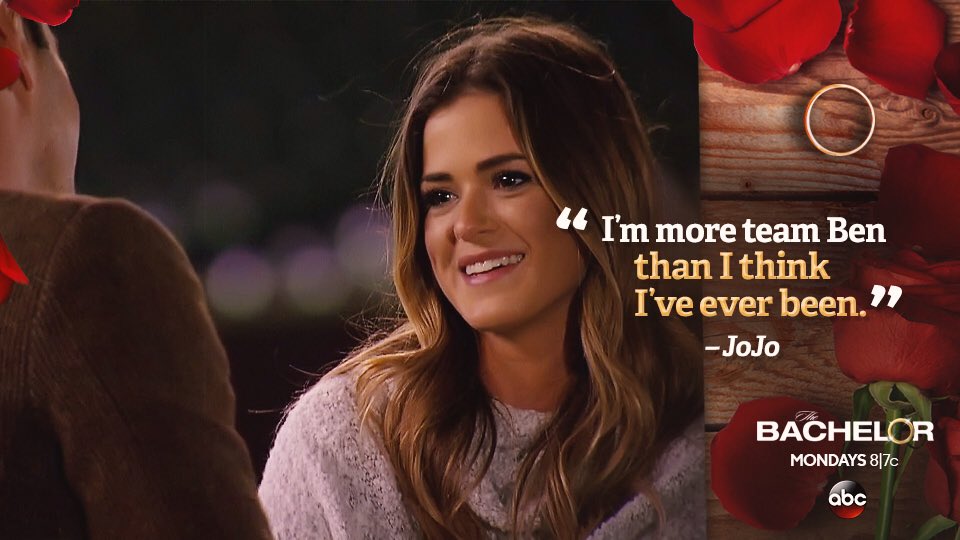 Now it's time for the three-on-one date with Caila, Becca and Amanda. It's a two-part date, so whoever gets the rose will get more time with Ben, while the other two girls will go back to the house. Whoever gets the rose means Ben wants to meet their family in hometown dates next week, so it's a big deal.
Amanda ends up getting the rose, and Ben says he's excited to meet her two little kids. Becca starts crying because she's upset she put herself out there. Becca is so sweet. There is a guy out there for her but I just don't think fighting with 25 other women is the way for her to find that guy. Also, you have the best hair ever, so at least there's that.
Becca:no matter who @benhiggi chooses, don't worry, you have the best hair. #spectacularbeachwaves

— Ginger Zee (@Ginger_Zee) February 16, 2016
It's time for Amanda and Ben to spend some alone time together, and he takes her to a place that he says is "normal" for him – McDonalds. The two go up to order and the lady asks if they want breakfast or dinner – obviously a promotion for McDonalds, but whatevs. Ben tells the woman at the counter he has always wanted to go in the back, so she lets him, and he and Amanda help at the drive-thru. People love it and are super excited to see Ben as they grab their Big Mac. After that, Ben and Amanda share a romantic meal, and even recreate a scene from "The Lady and the Tramp." It was super corny but Amanda was a good sport.
Nothing says "I ??you" like sharing fries from @McDonalds! #AllDayBreakfast pic.twitter.com/3qP12OHdPw

— The Bachelor (@BachelorABC) February 16, 2016
Emily is ecstatic for the last one-on-one date with Ben, but I don't think this is going to end well. I do think Emily is much more comfortable now that Haley is gone, but she's almost a little "too much" for me, if that makes sense.
Ben takes Emily to his home to meet his parents. This is a BIG deal. Obviously Ben wants to know what his parents think about her, and that's why he's going to their house to help him make his decision. Emily chats with Ben's mom and she can't stop talking. I'm sure some of this is editing but his mom couldn't get a word in edgewise!
Poor Emily has no idea she talked too much. Ben's mom tells him she thinks Emily is too young, and Ben agrees.
After getting together with his parents, Emily is gushing about how much fun she had and how great it was to meet his parents. Ben ends up breaking the news to her that she is not right for him, and he just doesn't see her as his wife. Ouch.
After saying goodbye to the girls, Emily heads home. She handled the entire break up SO well and I was really impressed with her maturity. She definitely held her head high. I'm going to miss her!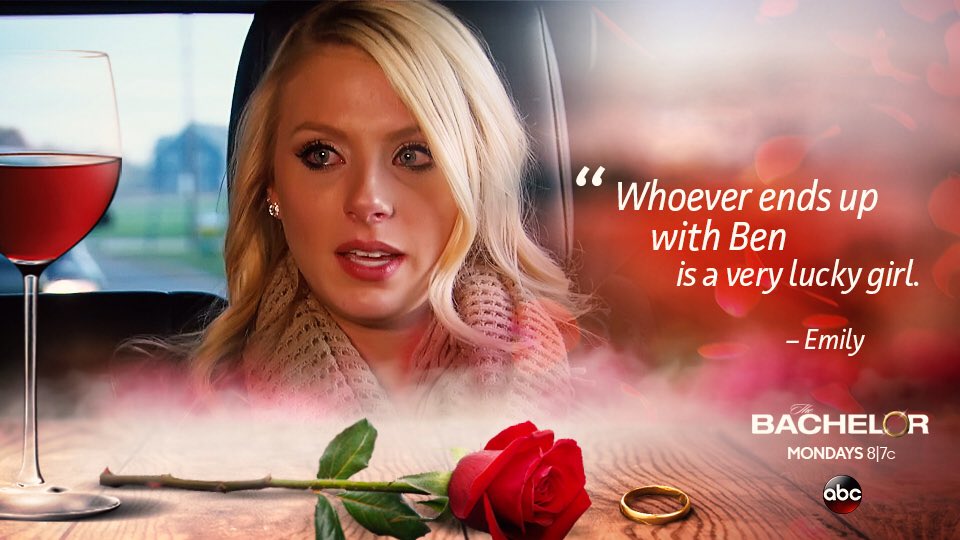 It's time for the rose ceremony and we know at this point one person is going home. Amanda already has a rose, so it's either going to be Lauren (yeah right), JoJo (not happening), Caila (maybe), or Becca (yep) going home. It has to be Becca, right? I hope he doesn't blindside her.
Lauren gets the first rose. JoJo gets the second rose. Caila gets a rose. That means sure enough, Becca is the one going home. It's not a big surprise to me, but still kind of a bummer. I really hope she finds what she's looking for someday.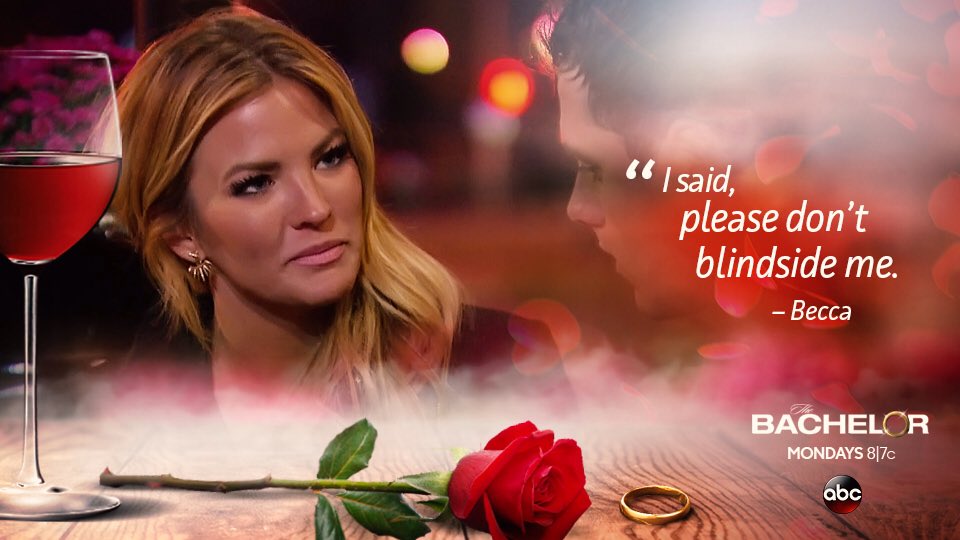 Next week are the hometown dates and I couldn't be more excited. We get to see everyone's habits and see how they are in their element. I really hope we'll see some drama next week, but if not, I'll just stare at Ben and be happy. :)
In Chris Harrison we trust,
Kelly